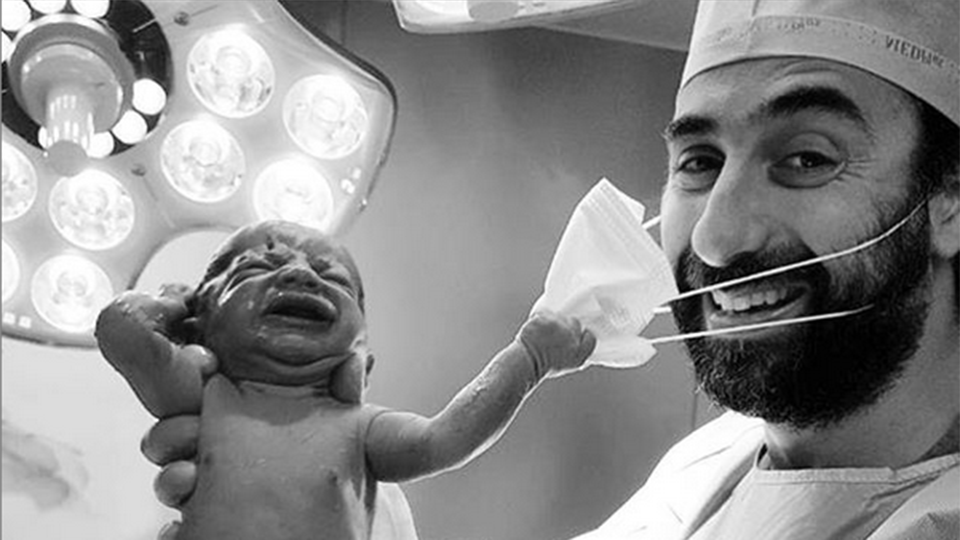 A Dubai-based doctor is winning hearts and spreading positive vibes with his photo of a newborn pulling away the medical practitioner's face mask. People on Instagram took a liking to the photo and it has since garnered over 12,000 likes.
Speaking to ARN, Dr Samer Cheaib, who has been working as Ob-Gyne for 16 years said that the photo was of the delivery of twins via C-section. 'I held the boy to let his dad take a photo of the moment, but the baby pulled on my mask,' he recalls,
Via his Instagram handle @dr.samercheaib, the Lebanese doctor shares photos of newborns and his life as medical practitioner as his way of spreading positive vibes online. 'I want to put something with a positive attitude online and to make expectant mothers feel at ease when it comes to childbirth,' Dr Samer said. With multiple photos of adorable newborns, Dr Samer hopes to make women overcome their fears about delivering their child. 'Having a baby is a lasting memory and I want people to smile during this moment,' he added.
Speaking about the now iconic photo, Dr Samer said that the reason it became popular was because it resonated with a lot of people. 'It connected with the audience because alot of us want to return to the times when the mask wasn't needed. This child who is so innocent and pure spoke to everyone's hope to return to the old times.' Users have also reached out to Dr Samer to say that they hope the photo is a sign that we will soon return to regular life.
'I get a lot of messages saying that they hope the photo is a good sign,' he narrates. 'In my own little way, I want to spread positivity online - especially now, because we all need to smile often,' Dr Samer concluded.