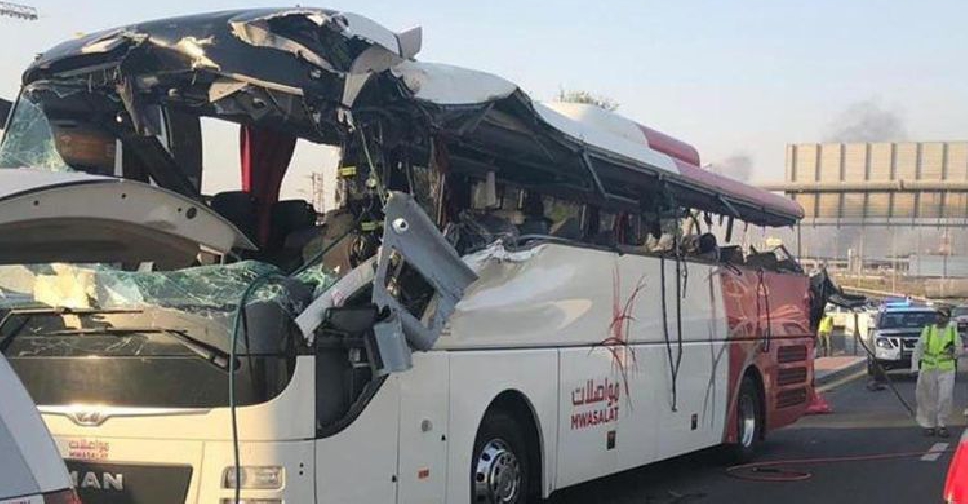 A bus that was travelling from Oman to the UAE crashed into a height restriction barrier on June 6 (IMAGE CREDIT: Dubai Police)
The barrier that a bus collided with in Dubai last month, killing 17 people, was in the wrong place, according to one of the defence lawyers.
Twelve Indian citizens, two Pakistanis and one passenger each from Ireland, the Philippines and Oman died when the bus they were travelling on from Oman to the UAE hit an overhead height restriction barrier at the Al Rashidiya exit from Sheikh Mohamed bin Zayed Road on June 6.
Lawyer Mohammad Al Tamimi, defending the Omani bus driver, claims that the barrier the vehicle collided with was located just 12 metres after a warning sign.
He says the distance between them should have been 60 metres, in relation to the road's speed limit of 60 km/h, as per GCC guidelines.
However, the prosecution says that there were warning signals in place more than 300 metres before the barrier, detailing the height restrictions and what lanes vehicles should be in.
They also pointed out that the speed limit was 40 km/h and previously claimed the defendant was driving at 94 km/h at the time of the incident.
The Omani driver has already pleaded guilty to causing wrongful death and the case has been adjourned until Thursday, July 11, when a verdict is expected.