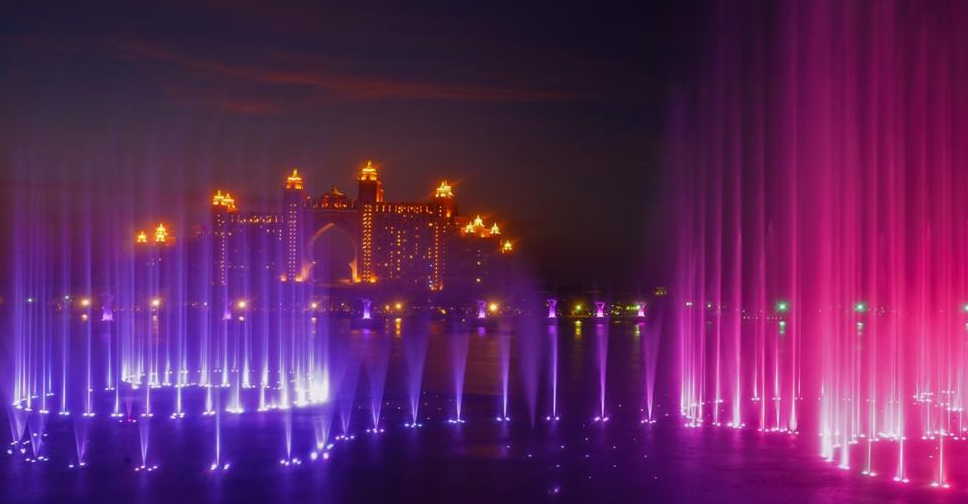 @DXBMediaOffice/ Twitter
Dubai is gearing up to break another Guinness World Records title - this time it's for the largest fountain.
The Palm Fountain at The Pointe will have a spectacular launch ceremony on Thursday, October 22.
The festivities that begin from 4:00 pm will include an array of live entertainment.
Free tickets to the launch event are already sold out and all ticket holders are required to reserve a seat at one of the many restaurants on The Pointe to watch the show.
The multicoloured Palm Fountain is a celebration of Dubai's resurgence and ambition to aim for the sky.
Spread over 14,000 sqft of water, the fountain's super shooter will stand tall at 105 metres and come alive with over 3,000 LED lights.
Ticket holder checklist and must-knows:
The launch will take place on October 22
Time: 4:00 pm until midnight
Where: East and West promenade of The Pointe
Masks are mandatory
E-tickets required to present at entrance gates
Restaurant booking and ticket mandatory to enter
Social distance and be responsible
Free shuttle buses will be provided from Nakheel Mall every 20 minutes beginning at 4:00 pm until midnight
Parking at The Pointe will be at a limited capacity and close off at 6:00 pm
1 day to go until #Dubai's The Pointe launches The Palm Fountain', an attraction that will attempt to break a Guinness World Records @GWR title for being the world's largest fountain. The launch event starts from 4pm and runs until midnight. pic.twitter.com/Q8teycHNfU

— Dubai Media Office (@DXBMediaOffice) October 21, 2020