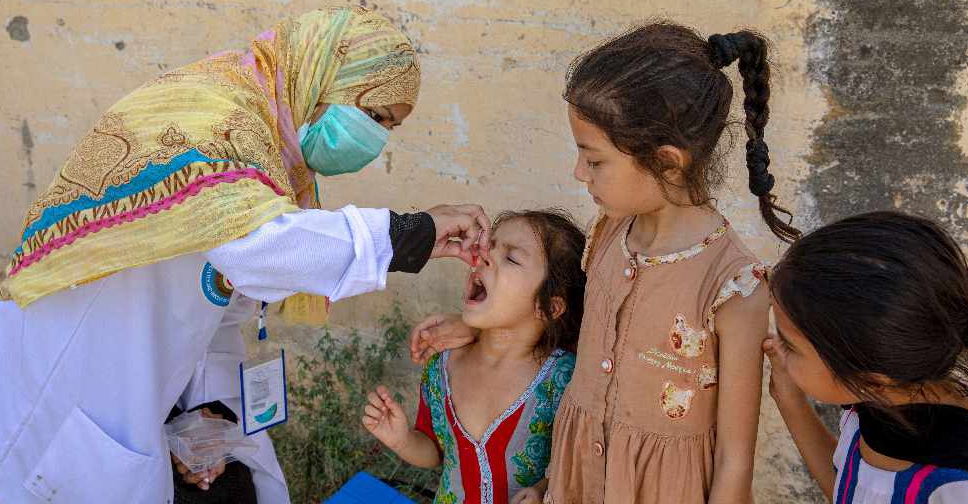 Supplied
The Emirates Polio Campaign is being honoured for World Polio Day on October 24 by landmarks lighting up across Abu Dhabi.
The Emirates Polio Campaign is part of the UAE Pakistan Assistance Programme, which was launched under the directives of President His Highness Sheikh Khalifa bin Zayed Al Nahyan and His Highness Sheikh Mohamed bin Zayed Al Nahyan, Crown Prince of Abu Dhabi.
This year's week-long awareness drive has been made more urgent by the impact of the COVID-19 pandemic.
The virus halted global eradication campaigns, with healthcare experts warning this could lead to a new polio crisis.
Emirates Polio Campaign mobilized, and in July it became the first vaccination programme to resume operations in Pakistan with the help of frontline health workers.
Between July and September 2020, they reached more than 16 million children with over 28 million vaccine doses.
The frontline health workers now take appropriate COVID-19 health precautions as they administer the vaccine, while also educating families about the coronavirus.
Since 2011, His Highness Sheikh Mohamed bin Zayed has committed over USD 250 million to support global efforts to eradicate polio.
Polio cases have dropped 99 per cent worldwide since 1988, but the Campaign warns there is a risk of the disease returning in large numbers if nations are not vigilant.
Pakistan has seen a spike of cases in the last year, with 77 cases reported so far in 2020, and 147 cases in 2019 – more than the last four years combined.