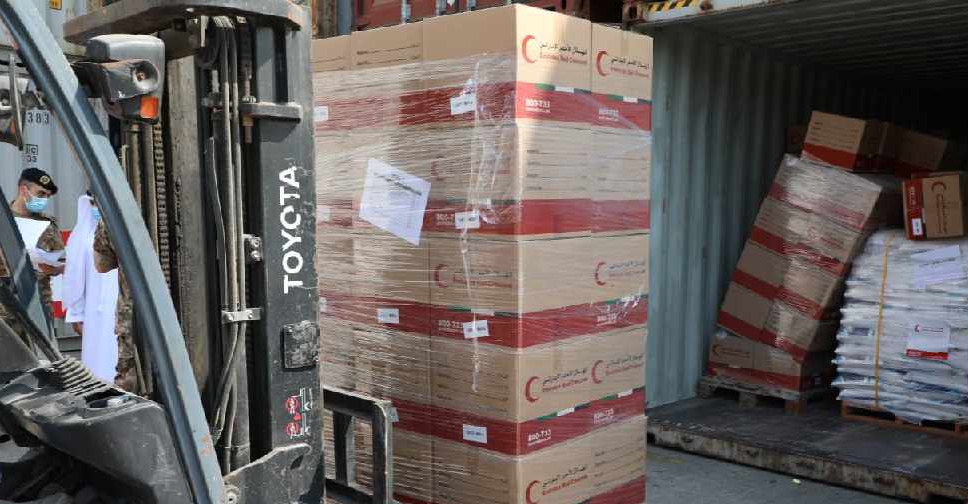 WAM
An Emirati humanitarian ship sent by the Emirates Red Crescent has arrived in the Lebanese capital with supplies to help limit the spread of COVID-19.
Relief efforts have been ongoing since a devastating explosion in the city's port area killed more than 200 people last month.
The latest shipment has been sent under a directive from His Highness Sheikh Hamdan bin Zayed Al Nahyan, Ruler's Representative in Al Dhafra Region and Chairman of the ERC.
The cargo contained 2,400 tonnes of aid including food, supplements for children, sanitisers, personal protective equipment, clothes and medical supplies.
It's being distributed to victims of the blast and to help battle the COVID-19 virus.
The ERC drafted a detailed plan, in coordination with the Humanitarian and Development Affairs office of the UAE Embassy in Lebanon and relevant Lebanese authorities, for the distribution effort.
°°
~

وصول الباخرة التي سيّرتها الهيئة بتوجيهات سمو الشيخ حمدان بن زايد آل نهيان، ممثل الحاكم في منطقة الظفرة، رئيس هيئة الهلال الأحمر الإماراتي، والتي تحمل على متنها 2400 طن من المواد الإغاثية إلى لبنان. #الهلال_الأحمر_الإماراتي #كورونا
#تعلم_الإشارة_مع_الهلال pic.twitter.com/EhgQ2OUXHv

— الهلال الأحمر الإماراتي (@emiratesrc) September 23, 2020