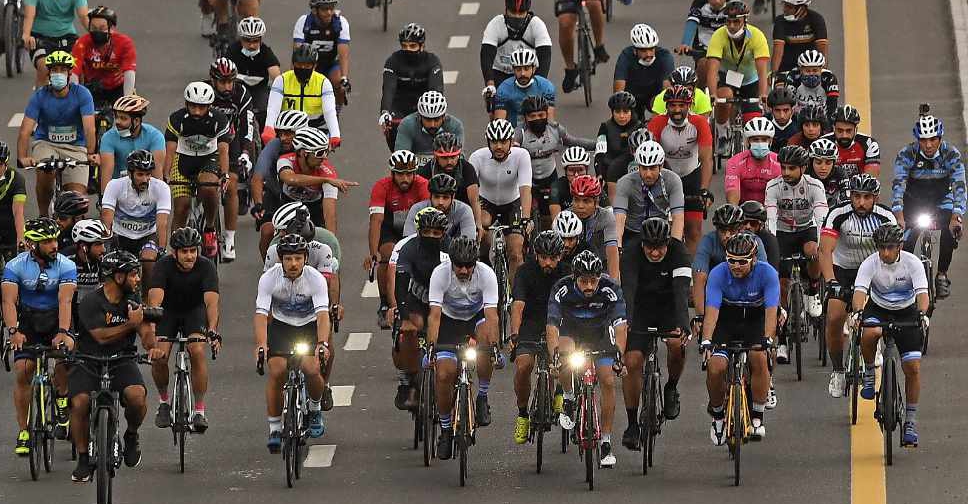 KARIM SAHIB / AFP
As Sheikh Zayed Road converted into a cycling track for the first time ever this morning, the Dubai Crown Prince joined thousands of cyclists for the epic Dubai Ride.
Taking to his official Twitter handle, His Highness Sheikh Hamdan bin Mohammed bin Rashid Al Maktoum, who also holds the post of the Chairman of Dubai Executive Council, thanked "more than 20,000" riders for their "positive energy and passion".
More than 20,000 people participated in Dubai Ride today... To every single rider, thank you for your positive energy and passion. This truly is the dynamic heart of Dubai that makes us proud and optimistic for our future. pic.twitter.com/mfyyEWglzP

— Hamdan bin Mohammed (@HamdanMohammed) November 20, 2020
A video posted on Dubai Media Office's Twitter handle showed Sheikh Hamdan leading from the front.
Cyclists of all ages and abilities were welcomed with "you are part of history" sign on Sheikh Zayed Road.
Part of the Dubai Fitness Challenge, riders were able to choose from two routes - the 14 km one along the city's main road, and a shorter, family-friendly one around Downtown Dubai.
#Dubai Ride, presented by @DP_World, attracts wide participation from the public for a once-in-a-lifetime cycling experience along Sheikh Zayed Road.@DXBFitChallenge pic.twitter.com/mwTUVRpQ91

— Dubai Media Office (@DXBMediaOffice) November 20, 2020
سمو الشيخ حمدان بن محمد بن راشد آل مكتوم يتقدَّم أكثر من 20 ألف مشارك في "تحدي دبي للدراجات الهوائية" الذي جرى اليوم (الجمعة)، ضمن فعاليات "تحدي دبي للياقة 2020" وذلك للمرة الأولى، إذ تحوّل شارع الشيخ زايد إلى مسار مفتوح للدراجات الهوائية بطول 14 كيلومتراًhttps://t.co/tvHy7DhegC pic.twitter.com/FxV7o9U6gn

— Dubai Media Office (@DXBMediaOffice) November 20, 2020