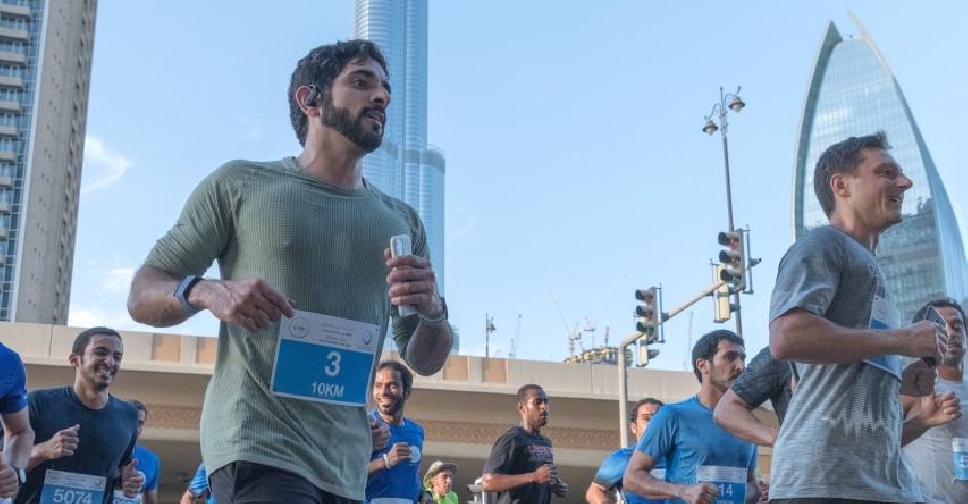 Supplied (File photo)
His Highness Sheikh Hamdan bin Mohammed bin Rashid Al Maktoum, Dubai Crown Prince and Chairman of the Executive Council has called on the community to take up the Dubai Fitness Challenge (DFC), which kicks off later this month.
He is urging everyone to commit to 30 minutes of daily physical activity for 30 days as part of the city-wide fitness movement which runs from October 30 to November 28.
The fourth edition will feature an action-packed calendar of virtual and physical events including sports, health and wellness activities.
The Challenge has been designed to help people of all ages, abilities and fitness levels improve their health and social well-being and experience a diverse range of programmes.
Public health and safety will remain paramount throughout DFC, with all physical events strictly following regulations outlined by the Dubai government, including social distancing, safety precautions and hygiene and sanitisation guidelines.
"The return of Dubai Fitness Challenge is a testament to the emirate's resilience and its commitment to rebuild a stronger and happier society by embracing the benefits of fitness and wellness habits. When we create the right habits and make them a part of our lives, we have the opportunity to truly transform ourselves," said Sheikh Hamdan.
.@HamdanMohammed: The return of @DXBFitChallenge is a testament to #Dubai's resilience & its commitment to rebuild a stronger and happier society by embracing the benefits of fitness and wellness habits. pic.twitter.com/Qli25M5TfL

— Dubai Media Office (@DXBMediaOffice) October 20, 2020
By committing to 30 minutes of fitness for 30 days, together we will share a dynamic journey to make the UAE one of the world's most active nations. Take part through the official Dubai Fitness Challenge site https://t.co/SaxPOcuo1j

— Hamdan bin Mohammed (@HamdanMohammed) October 20, 2020
DFC 2020 will have a special focus on at-home sessions with the return of its "Find Your 30" virtual content hub on www.dubaifitnesschallenge.com.
The free-to-access, one-stop destination will host a wide range of fitness content for all ages and abilities.
The public can also look forward to the "City is a Gym" virtual map spanning 30 locations across the city where individuals can exercise for free without any equipment.
Upon arrival at each location, participants will be able to scan a QR code with their mobile device to access an easy-to-follow workout that will be unique to that place.
The physical programme of DFC will feature three dedicated Fitness Villages, eight Fitness Hubs and more than 2,000 free fitness classes and sessions taking place throughout the month.
New in 2020 will be a programme of guided Running Tours providing participants with a unique, on-foot perspective of iconic sights across the city.
As part of Dubai's goal to become one of the most active cities in the world, DFC 2020 will feature collaborations with more than ten global brands aimed at highlighting the importance of fitness.
Registration for the 2020 Challenge is now open on the official DFC website.
By registering, participants can unlock free 30-day programmes from DFC partner apps, deals and offers on fitness and wellness merchandise, as well as exclusive workouts and wellness videos from some of the world's best instructors.
I invite everyone across the UAE to participate in this year's @DXBFitChallenge from October 30 until November 28. Whether you are taking part as an individual, part of a government or private entity, or with your school, these 30 days will re-energise our lifestyles.

— Hamdan bin Mohammed (@HamdanMohammed) October 20, 2020