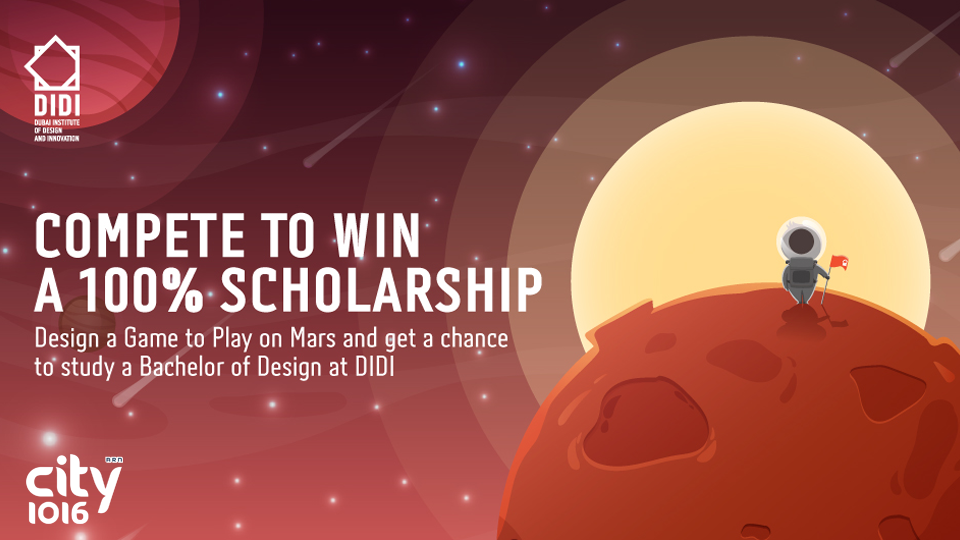 WIN a 4 Year Bachelor of Design degree worth 400,000 from Dubai Institute of Design and Innovation (DIDI).
Watch the walk through of Dubai Institute of Design and Innovation with Parikshit!
Located in the heart of Dubai's design district, d3, Dubai Institute of Design and Innovation (DIDI) is a private, non-profit university, accredited by the Ministry of Higher Education. With its first intake in 2018, DIDI is focused on nurturing, mentoring and creating the next generation of designers. DIDI has entered into strategic collaborations with the Massachusetts Institute of Technology (MIT) and The New School's Parsons School of Design to develop a curriculum that is designed to empower students to map out their own four-year educational journey, culminating in the region's first Integrated Bachelor of Design degree, with a choice of concentration in the areas of Product Design, Multimedia Design, Fashion Design and Strategic Design Management.
how to win the scholarship
Design a game that future colonizers of Mars can play with during their free time. Students who demonstrate outstanding design talent stand a chance of being awarded a 4 year scholarship from Dubai Holding or Kart Group.
Step 1 : APPLY and receive admission to DIDI
Step 2 : Choose one from the below two scenarios
Design a game during the journey




To be played in zero gravity environments, for example in the spaceship during the journey from Earth to Mars.

Design a game on Mars




To reduced gravity and barren environments, such as on Mars itself
For more information CLICK HERE
Closing date July 7th
WHAT'S TRENDING ON CITY 1016