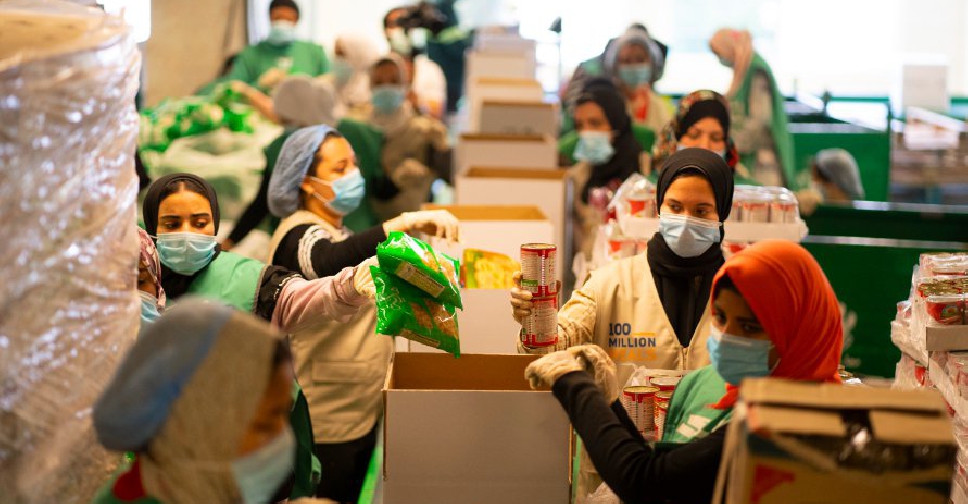 WAM
Many people in Jordan, Egypt and Pakistan have started receiving food parcels as part of the '100 Million Meals' campaign that aims to support disadvantaged communities during the Holy Month of Ramadan.
Essential food items, including flour, rice, lentils, red beans, sugar, oil and dates have been distributed to enable low-income families, refugees, orphans and widows prepare meals through Ramadan.
The campaign, which aims to benefit countries across the Middle East, Africa and Asia, is being carried out by the Mohammed bin Rashid Al Maktoum Global Initiatives (MBRGI), in collaboration with international and local partners in each country.
The UN World Food Programme is also helping provide food support through money transfers and cash vouchers for low-income communities in Palestine and in refugee camps in Jordan and Bangladesh.
Since its launch on April 11, massive donations continue to pour in from individuals, companies and businessmen inside and outside the UAE, with every AED 1 contributing to a meal.
Here's how you can donate:
Individuals and companies can donate to the '100 Million Meals' campaign in four simple ways. First, on the campaign's website www.100millionmeals.ae; second, by making a transfer to the designated bank account through Dubai Islamic Bank (AE08 0240 0015 2097 7815 201); third, by sending "Meal" on SMS to the specified UAE numbers (Etisalat and Du) listed on the website; and fourth, by contacting the campaign call center on the toll-free number 8004999.