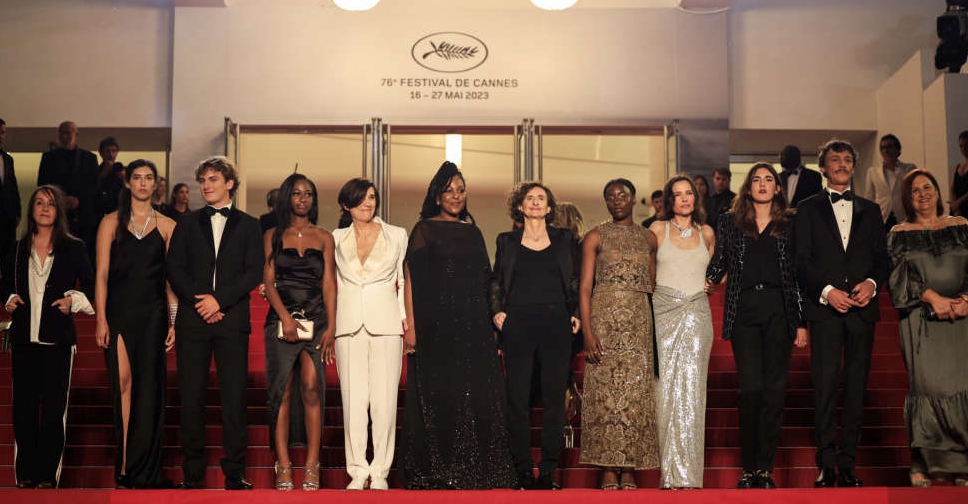 AFP
French director Catherine Corsini appeared on the Cannes Film Festival's red carpet flanked by a cluster of cast members for the premiere of her drama "Homecoming," which has been the subject of some controversy in recent months.
Corsini, wearing a white suit, danced and signed autographs before the crew joined hands on their way towards the Grand Theatre Lumiere. The director walked between producer Elisabeth Perez and actor Aissatou Diallo Sagna, who won France's Cesar award for best supporting actress in Corsini's 2021 film The Divide.
Homecoming tells the story of Paris nanny Khedidja, played by Diallo Sagna, who travels to Corsica for work with her teenage daughters Jessica and Farah - portrayed by Suzy Bemba and Esther Gohourou. The family is returning to the island they left 15 years prior under tragic circumstances.
The movie had faced controversy after concerns were raised about an intimate scene involving minors.
The French National Centre of Cinema (CNC) pulled 680,000 euros ($749,000) of subsidies, out of a 2.4 million euro budget, over the non-disclosure of a scene involving an actor under age 16, according to the AFP news agency.
The CNC, which is responsible for the production and promotion of cinema in France, was not immediately available.
Corsini told Variety magazine on Tuesday that she ultimately cut the scene from the final version "to calm everyone down and especially so that people would stop bothering the actors".
Counting Corsini, a co-founder of feminist organisation Collectif 50/50, there are a record number of female directors - seven - competing for the Palme d'Or top prize this year.