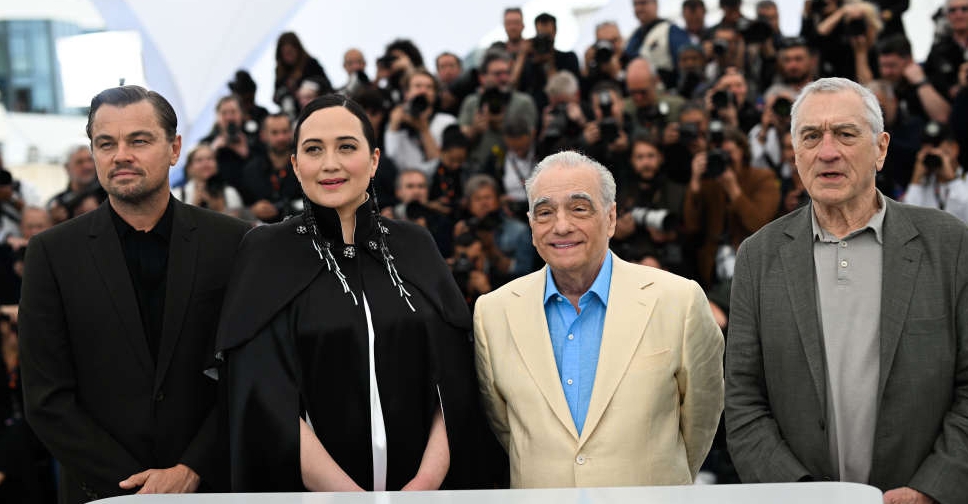 AFP
The iconic trio of Hollywood powerhouses, Leonardo DiCaprio, Robert De Niro and Martin Scorsese, have once again left an indelible mark on the silver screen with their latest collaborative endeavour.
Their true-crime drama Killers of The Flower Moon made its much-anticipated debut at the prestigious Cannes Film Festival, eliciting a resounding response from the captivated audience.
The highly anticipated premiere took place at the illustrious Grande Theatre Lumiere, where a sea of distinguished guests and film enthusiasts eagerly awaited the unveiling of this cinematic masterpiece.
The post-screening reception was nothing short of extraordinary, as an exhilarating standing ovation enveloped the theatre for several minutes, serving as a testament to the film's undeniable impact.
A video shared on the Cannes Film Festival's official YouTube channel showcased the electrifying atmosphere within the venue. The ecstatic audience fervently applauded the film for an impressive duration of at least seven minutes. Their cheers intensified as director Martin Scorsese took the stage to express his gratitude to the attendees.
"Thank you to the Osage," Scorsese humbly acknowledged, before acknowledging his collaborators, "my old pals Bob, Leo, all of us together." He further described the experience of filming the movie as "very alive," his voice infused with genuine emotion. Scorsese's heartfelt words left an indelible impression on those present.
The thunderous applause grew even more boisterous as the film's esteemed cast, including Leonardo DiCaprio, Robert De Niro and Lily Gladstone, made their appearance at the premiere. Joining them were Jesse Plemons, Tantoo Cardinal, Cara Jade Myers, JaNae Collins and Jillian Dion, all of whom delivered compelling performances in Killers of The Flower Moon.
Based on David Grann's bestseller, the film brings to life a gripping true-crime story set in 1920s Oklahoma, chronicling the horrifying serial murders targeting the members of the oil-wealthy Osage Nation, a dark chapter in history known as the Reign of Terror.
A notable departure for Scorsese, Killers of The Flower Moon marks the esteemed director's first venture into the Western genre. Although the film premiered out of competition at Cannes, it has already garnered praise from critics and cinephiles alike, solidifying its position as a highly anticipated release.
Audiences around the world can mark their calendars, as the movie is set to hit theaters with a limited release on October 6, followed by a wide release on October 20. Additionally, viewers will have the opportunity to stream the film on Apple TV+ following its theatrical run, ensuring a broader reach for this cinematic triumph.
With their unparalleled artistry and unwavering commitment to storytelling, DiCaprio, De Niro and Scorsese continue to captivate audiences, proving time and again that their collective talent knows no bounds.
C'était hier soir à #Cannes #CotedAzurFrance, capitale mondiale du 7ème art…

Un excellent dimanche à tous !

📸 G. Traverso #Cannes2023 pic.twitter.com/eIpg8D8ZzP

— Cannes (@villecannes) May 21, 2023