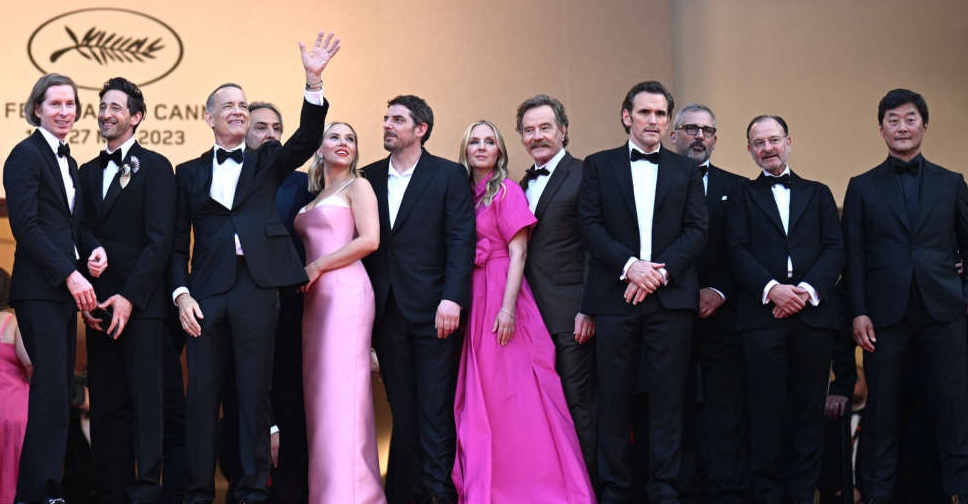 AFP
A bus full of celebrities poured onto the Cannes Film Festival's red carpet for the premiere of director Wes Anderson's new space-themed fable, "Asteroid City".
As with his previous films, Anderson's cast is a veritable who's who list of Hollywood stars, including Jason Schwartzman, Scarlett Johansson, Tom Hanks, Steve Carrell, Bryan Cranston, Adrien Brody and Margot Robbie.
Notably absent is Bill Murray, who has been in almost all of Anderson's films but missed this one due to being sick from COVID-19 during filming.
Anderson thanked his cast after a six-minute standing ovation following the film's world premiere at the plush Grand Theatre Lumiere.
Asteroid City is the name of the fictional town in the southwestern United States where the movie, set in the 1950s, takes place. Famous for its meteor crater and observatory, the town is hosting a convention for young scientists when a UFO disrupts the celebrations and upends attendees' lives.
Schwartzman stars as Augie Steenbeck, a war photographer grieving the death of his wife, whose car breaks down in the town with his three young daughters and son, nicknamed "Brainiac," in tow.
His love interest is famous actor Midge Campbell, played by Johansson, in town to attend the convention with her daughter.
Asteroid City marks the third time the director, known for his unique visual style, has competed for the festival's top prize. His last entry was 2021's The French Dispatch.
Anderson teamed up to write Asteroid City with Roman Coppola, with whom he has collaborated in the past on movies such as Oscar-nominated Moonrise Kingdom and Isle of Dogs.
The movie received mixed reviews, with critics praising its visual detail and style but deducting points for being light on emotional content.
Britain's The Guardian newspaper gave it four out of five stars while Variety wrote it "looks smashing, but as a movie it's for Anderson die-hards only, and maybe not even too many of them".