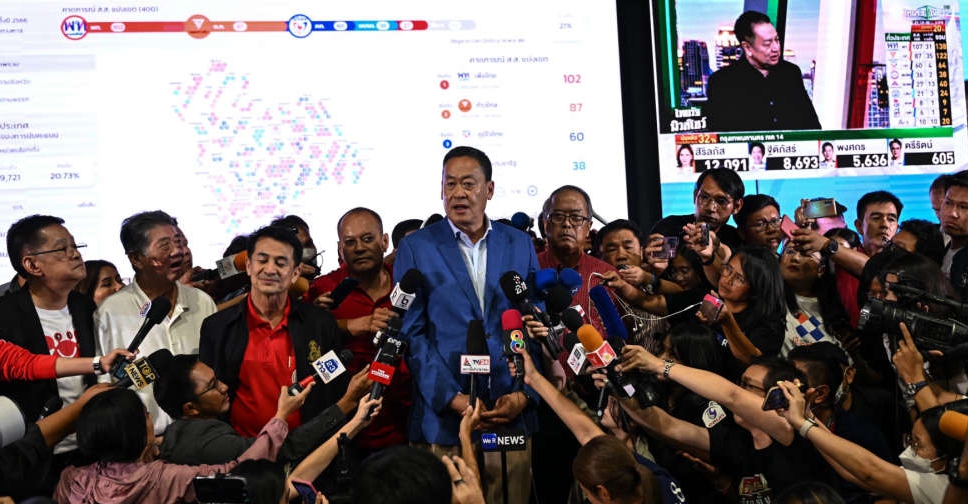 AFP
Thailand's two main opposition parties agreed on Monday to form a ruling coalition after they trounced military-backed rivals in a weekend election.
The Move Forward party and opposition heavyweight Pheu Thai dominated Sunday's ballot in a stunning rout of army-backed parties, but they could face challenges in mustering enough support, with parliamentary rules drafted by the military after a 2014 coup skewed in favour of its allies.
Their alliance would need to ensure its efforts to form a new government would not be stymied by a junta-appointed Senate, which gets to vote on the prime minister in a bicameral sitting of the 750-member legislature, and has a record of favouring conservative parties led by generals.
Pita Limjaroenrat, Move Forward's 42-year-old leader proposed an alliance of six parties that would command 309 seats, with him as prime minister. That would be short of the 376 seats needed to ensure he was elected to the top job.
Asked about the upper house Senate, he said all sides must respect the election outcome and there was no use going against it.
"I am not worried but I am not careless," he told a press conference.
"It will be quite a hefty price to pay if someone is thinking about debunking the election result or forming a minority government."
Pheu Thai, controlled by the billionaire Shinawatra family said it agreed with Pita's proposal and wished him luck in efforts to become prime minister.
The party had won most seats in every election this century, including twice in landslides, but met its match against Move Forward as it came close to a sweep of the capital Bangkok and made gains in some Pheu Thai and conservative strongholds.
NO OTHER ALLIANCE
"Pheu Thai has no plan to form any other government," leader Chonlanan Srikaew told a press conference.
Asked about the possibility of their coalition being thwarted by the upper house, he said: "In principle, Senators will have to respect the people's voice."
Though the results appear to be a hammer blow for the military and its allies, with parliamentary rules on their side and some influential power-brokers behind them, they could determine the shape of a new government.
Move Forward was galvanised by a wave of excitement among the youth over its liberal agenda and promises of bold changes, including breaking up monopolies and reforming a law on insulting the monarchy.
The party added a new dimension to the battle for power that was for years centred on the polarising Shinawatra family and a pro-military establishment, that brought two decades of on-off tumult.
"We will use the parliament to make sure that there is a comprehensive discussion with maturity, with transparency in how we should move forward in terms of the relationship between the monarchy and the masses," he said.
Asked if Pheu Thai would back that, Paetongtarn Shinawatra, one of its main candidates, said it could be discussed in the legislature.
"Pheu Thai has a clear stand that we won't abolish 112 but there can be a discussion about the law in parliament," she said.