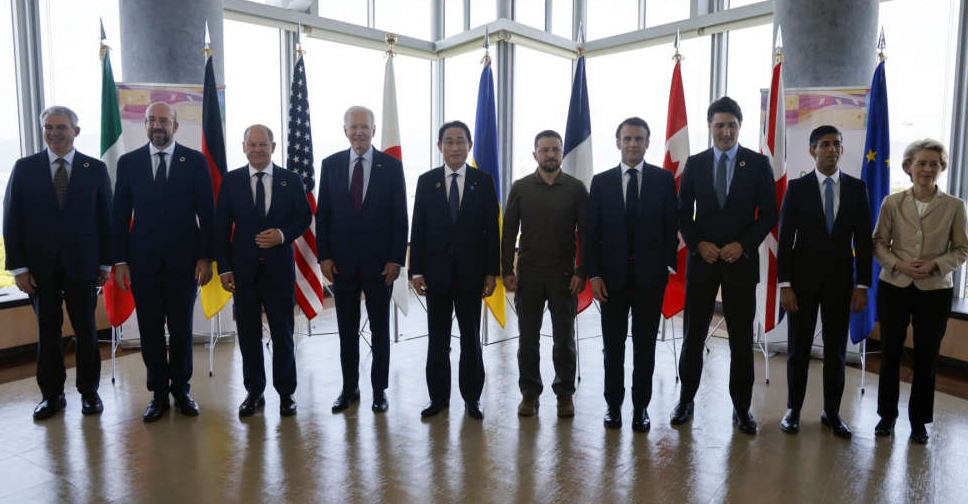 AFP
The Group of Seven (G7) rich nations signalled to Russia their readiness to stand by Ukraine for the long haul while giving President Volodymyr Zelenskiy a chance to win over countries such as Brazil and India on the last day of a summit in Japan.
Distrust of China as a trading partner and determination to help Ukraine repel Russia's invasion were the key messages delivered by the world's leading democracies at the gathering in the city of Hiroshima.
But even as the G7 leaders began wrapping up their three-day meeting on Sunday, Russia claimed to have finally captured the battered eastern Ukrainian city of Bakhmut, following a months-long siege that marked the bloodiest battle of the war.
The leaders of the G7 nations - the United States, Japan, Germany, Britain, France, Italy and Canada - have debated how to respond as the conflict that began in February last year drags on.
Potential joint allied training programmes for Ukrainian pilots on US-made F-16 warplanes was a message to Russia that it should not expect to succeed in its invasion by prolonging conflict, German Chancellor Olaf Scholz said on Sunday.
Ukraine has not won commitments for delivery of the planes, but President Joe Biden and senior US officials told G7 leaders Washington supports joint allied training programmes for Ukrainian pilots on F-16s.
French President Emmanuel Macron, meanwhile, said the summit was an opportunity to convince big emerging states such as India and Brazil to come off the fence and put their support behind Ukraine.
Macron made the comment to reporters a day after calling Zelenskiy's surprise visit at the summit a "game changer".
Shortly after Zelenskiy arrived in Japan, Russia claimed victory in Bakhmut. Hours before the claims from Moscow, Ukraine had rejected a claim by Russian mercenary chief Yevgeny Prigozhin that his Wagner fighters had completed the capture of the city.