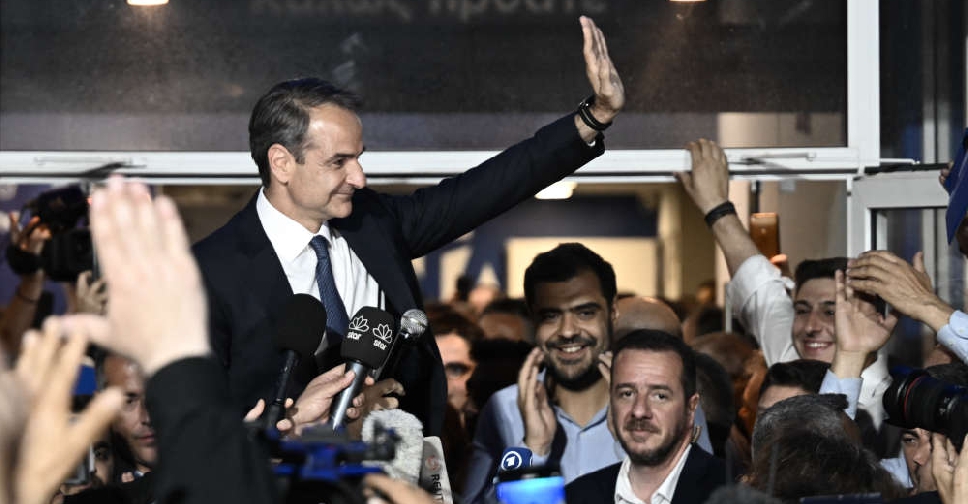 AFP
Greece's ruling New Democracy party stormed to a crushing victory in a parliamentary election on Sunday but fell just short of the threshold needed to form a government on its own, making a runoff election in a month more likely.
With most votes counted, conservative New Democracy took a commanding lead of 40.8%, trouncing the radical leftist Syriza, which governed from 2015 to 2019, which polled 20.1%.
Greece's interior ministry projected New Democracy could win 145 seats in parliament, six short of an absolute majority.
From Monday, Greek President Katerina Sakellaropoulou will give the top three parties - New Democracy, Syriza and the Socialist PASOK - three days each in turn to form a coalition government.
If they all fail, Sakellaropoulou will appoint a caretaker government to prepare new elections about a month later.
Prime Minister and New Democracy leader Kyriakos Mitsotakis, who has repeatedly said he wants a strong one-party government, said he believed he was given a clear mandate.
"The ballot results are decisive. They show that New Democracy has the approval of the people to rule, strong and autonomous," he told cheering crowds outside party headquarters in downtown Athens.
The result was a stunning boost for Mitsotakis, whose administration had to contend with a wiretapping scandal, the COVID pandemic, a cost of living crisis and a deadly rail crash in February which triggered public outrage.
In equal measure, it was a disaster for Syriza and its leader Alexis Tsipras, a firebrand catapulted to power in 2015 on the back of voters' discontent with other parties over their handling of the debt crisis which ravaged Greece's economy for more than a decade.
The MeRA25 movement headlined by Yanis Varoufakis, a former Syriza finance minister forced to resign by Tsipras in the chaotic 2015 negotiations with lenders, failed to get a seat in parliament.