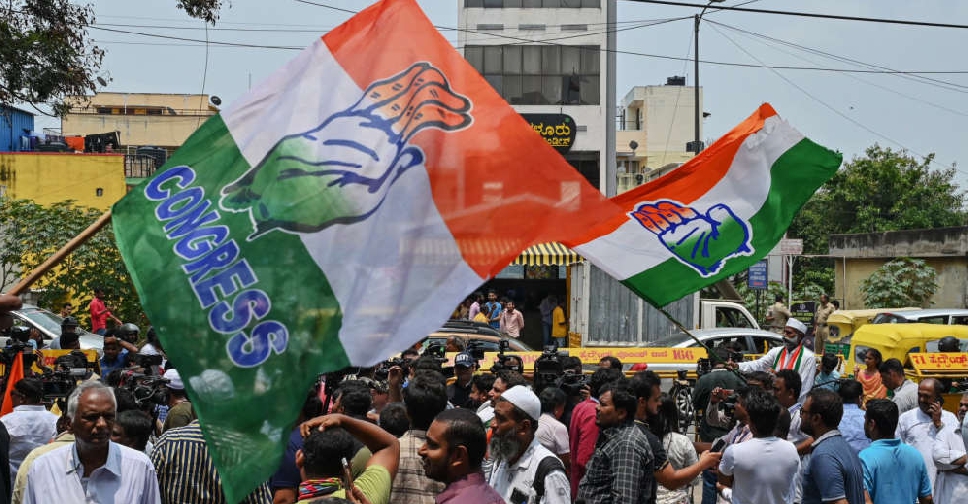 Congress supporters celebrate the party's victory in the Karnataka state legislative assembly election in front of the Karnataka Pradesh Congress Committee office in Bengaluru on May 13, 2023. (Manjunath KIRAN / AFP)
India's main opposition Congress party has won elections in the southern state of Karnataka on Saturday, emphatically defeating the ruling Bharatiya Janata Party (BJP).
The election is the first of five crucial state polls this year that are seen as setting the tone for parliamentary elections due in April and May 2024.
It is also the first big electoral face-off between Prime Minister Narendra Modi's BJP and Congress since Congress leader Rahul Gandhi was convicted of defamation in March and lost his parliament seat.
Karnataka, which was ruled by the BJP, voted on Wednesday and votes were counted on Saturday.

Congress won 137 seats against 65 for the BJP in the 224-member legislature, according to the Election Commission.
The Congress party's fortunes had shrunk to a historical low since losing power at the national level to the BJP in 2014. Before Saturday it had won only one of 24 state or federal territory elections since 2019, when Modi swept national elections for a second term.
In contrast, the BJP won 15 states or federal territories either on its own or in alliance with regional parties.
The defeat in Karnataka is a rare blow for the BJP considering Modi remains highly popular after nine years in power and is favourite to win a third term nationally in 2024.
Ecstatic Congress members burst firecrackers, danced to the beat of drums and distributed sweets at the party headquarters in New Delhi, and in Bengaluru, the global tech hub which is the capital city of Karnataka.
"(The) Congress party stood with the poor in Karnataka, we fought on the issues of the poor," Gandhi told reporters.
"I feel happiest about the fact that we didn't fight this fight with hate or wrong words. We fought this fight with love, with an open heart, and the people of Karnataka showed that this country likes love," he said.
"The markets of hate have been shut in Karnataka, the shops of love have opened."
Karnataka is home to about 65 million people and is considered the BJP's gateway to southern India, as the party has struggled to win elections elsewhere in the region.
"We accept the verdict of people of Karnataka with due respect, we will take this verdict in our stride," Basavaraj Bommai, the BJP's outgoing chief minister of Karnataka, tweeted.
"We will analyse and correct our mistakes and rebuild the party and come back during parliamentary elections."