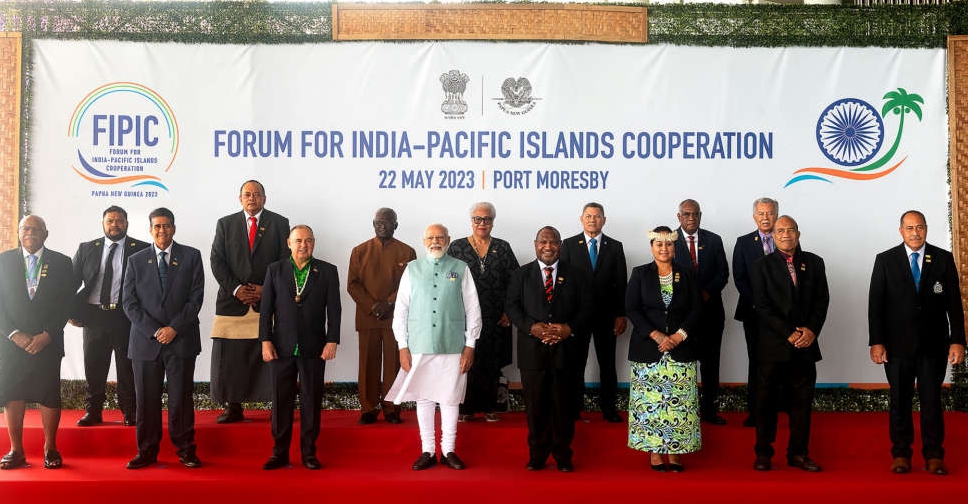 AFP
India's Prime Minister Narendra Modi pledged support for the Pacific Islands at a summit in Papua New Guinea on Monday, with the US Secretary of State scheduled to also meet Pacific leaders and sign a defence agreement with Papua New Guinea.
Modi told the 14 leaders of the Forum for India-Pacific Islands Cooperation that India would be a reliable development partner to small island states, and was committed to a "free, open and inclusive Indo Pacific".
"Without any doubt we are willing to share our capabilities and experiences in digital technology, space technology, health security, food security, climate change and environment protection," he said in opening remarks.
The Quad leaders, of Australia, United States, Japan and India, had agreed in Hiroshima to increase cooperation with Pacific Island countries, he added.
In his opening remarks, PNG Prime Minister James Marape urged India to think of small island states who "suffer as a result of big nations at play".
Marape said Russia's war with Ukraine, for instance, had caused inflation and high fuel and power prices in the region's small economies.
DEFENCE DEAL
Modi held a bilateral meeting with Solomon Islands leader Manasseh Sogavare, whose security deal with China prompted concern from Washington over Beijing's intentions in the region.
US Secretary of State Antony Blinken is expected to sign a Defence Cooperation Agreement between the United States and PNG, and also hold a Pacific Island leaders meeting in the afternoon.
Several universities held protests at campuses against the signing of the Defence Cooperation Agreement, amid concern it would upset China. Marape has denied it would stop PNG working with China, an important trade partner.
The US defence agreement was an extension of an existing agreement that would boost PNG's defence infrastructure and capability after decades of neglect, the PNG government said earlier.
Marape told media on Sunday the defence agreement would also see an increase in the US military presence over the next decade.
Washington would provide $45 million in new funds as it partnered with PNG to strengthen economic and security cooperation, including protective equipment for the PNG defence force, climate change mitigation and tackling transnational crime and HIV/AIDS, the US State Department said.
Blinken visited a healthcare clinic where US funding is helping to boost testing and access to antiretroviral therapy, to combat HIV/AIDS.
The United States Commander for the Indo-Pacific Command, Admiral John Aquino, attended a ceremony at PNG's Murray Barracks to present personal protective equipment to PNG's defence force, the PNG Post Courier reported.