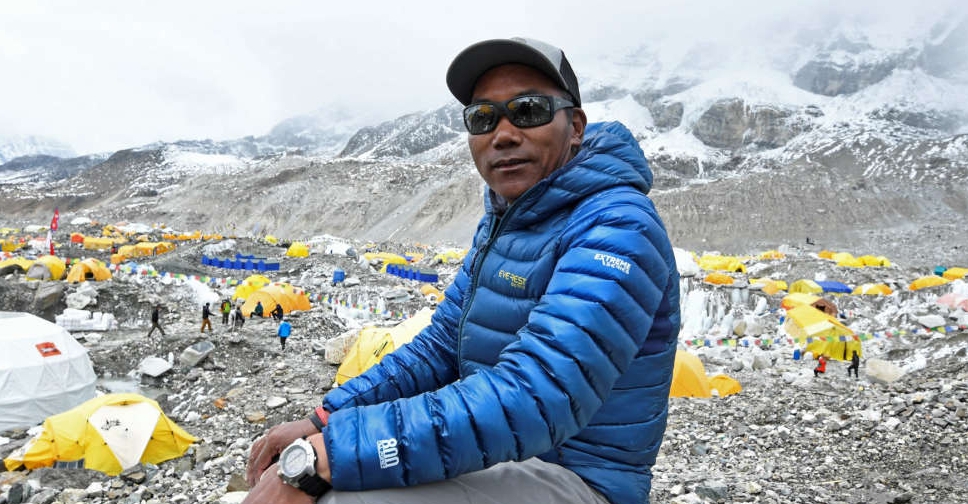 AFP (File Picture)
A Nepali sherpa reached the summit of Mount Everest for a record 28th time on Tuesday, an official said, completing his second ascent in just a week, as the toll in this year's climbing season reached 11.
Kami Rita Sherpa, 53, reached the 8,849-metre summit by the traditional southeast ridge route, said Nepali tourism official Bigyan Koirala, following his 27th climb last week.
Pioneered by the first summiteers, New Zealander Sir Edmund Hillary and Sherpa Tenzing Norgay in 1953, the route remains the most popular path to the world's tallest peak.
"Kami Rita is on his way down from the summit," said Thaneswar Guragai, the general manager of his employer, the Seven Summit Treks company, which says climbing is a passion for the sherpa.
"He climbed with other clients but we are waiting for details."
Kami Rita first climbed Everest in 1994, and has done so almost every year since, except for three years when authorities closed the mountain for various reasons.
"He developed a deep passion for climbing from a young age and has been scaling the mountains for over two decades," the company said last week.
Another sherpa climber scaled Everest for the 27th time this week, the most summits after Kami Rita.
British climber Kenton Cool last week climbed Everest for the 17th time, the most by a foreigner.
However, the dangers the mountain presents for many climbers were reflected in two more deaths on Everest over the weekend that took the toll to 11 since April.
One was a Nepali sherpa, working to clean the mountain, who died on Monday, the Nepali Army said in a statement. An Australian engineer died during the descent from the summit on Friday in the death zone above 7,925 m, which is infamous for the thin air that can cause sudden attacks of high-altitude sickness.
Jason Kennison, 40, probably died due to weakness at the Balcony area between the summit and the final camp, Ang Tshering Sherpa, of the Asian Trekking Co, said on Tuesday. "He was being carried down by sherpa climbers but collapsed after reaching the Balcony area," he said.
Strong winds frustrated efforts to carry more oxygen canisters for Kennison from the final camp, hiking officials said.
"He was just on top of the world, literally, on top of the world and that's what he wanted to achieve and he achieved that," Kennison's mother, Gill, told a press conference in his hometown of Mallala, about 60 km north of Adelaide. "On the descent is when he suddenly fell ill and that's when he passed away," his brother, Adrian, added on Monday.
The tally of 11 includes three sherpas who died in April in a serac fall on the lower reaches of the mountain, while others died of illness, weakness and various causes, they added.
Two climbers, one each from Singapore and Malaysia, have been missing for the last three days, officials said.