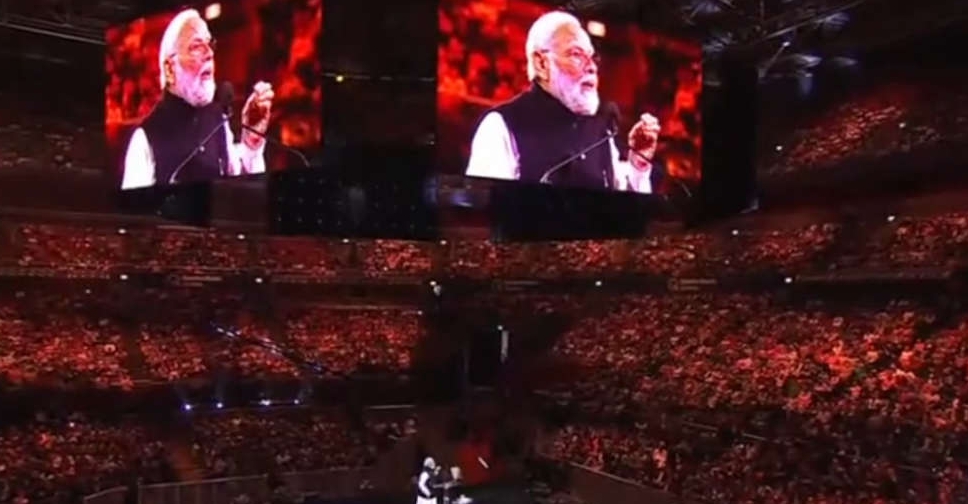 Twitter/NarendraModi
Thousands of overseas Indians cheered Prime Minister Narendra Modi at a rally in one of Sydney's biggest sporting arenas on Tuesday, a rare mass showing for a foreign leader in Australia.
Modi, who is visiting Australia for the first time since 2014, will look to use his popularity among expatriate Indians to boost support at home ahead of a general election next year, after his ruling Bharatiya Janata Party (BJP) lost a key state election in southern India this month.
Thousands of supporters thronged the 21,000 capacity Qudos Bank Arena in Sydney Olympic Park, one of the city's biggest indoor stadiums which has hosted international stars like Bruce Springsteen and the Backstreet Boys, though there were significant numbers of empty seats as Modi began his speech.
The Indian leader, who arrived to cheers from the crowd after a programme of song and dance from across India, paid tribute to the many connections between the two countries, from cricket and tennis to films and Indian street food in Sydney.
"Relations between both countries are based on mutual trust and respect," he said, speaking in Hindi.
A chartered Qantas flight rebranded as "Modi Airways" brought in fans from Melbourne, while "Modi Express" were being chartered from Queensland, local ABC News reported.
Modi is known to put up big shows during his overseas trips and has addressed packed stadiums in the UK, the U.S. and other countries that have large expatriate Indian populations.
Festivities in Sydney have already begun outside the venue with supporters breaking into orchestrated dances, songs and chants praising Modi and cheering for India.
Australian Prime Minister Anthony Albanese also attended the event with Modi.
"You have brought the spirit of the world's biggest democracy to Australia," he said.
At a bilateral meeting on Wednesday the two leaders will discuss trade and investment, renewable energy, and defence and security cooperation.
"Australia and India share a commitment to a stable, secure and prosperous Indo-Pacific," Albanese said in a statement.
India is Australia's sixth largest trading partner, while around 750,000 people in Australia claim Indian ancestry.
Modi, 72, who is known for never addressing a press conference, will not be speaking to the media at any of his engagements in Australia.