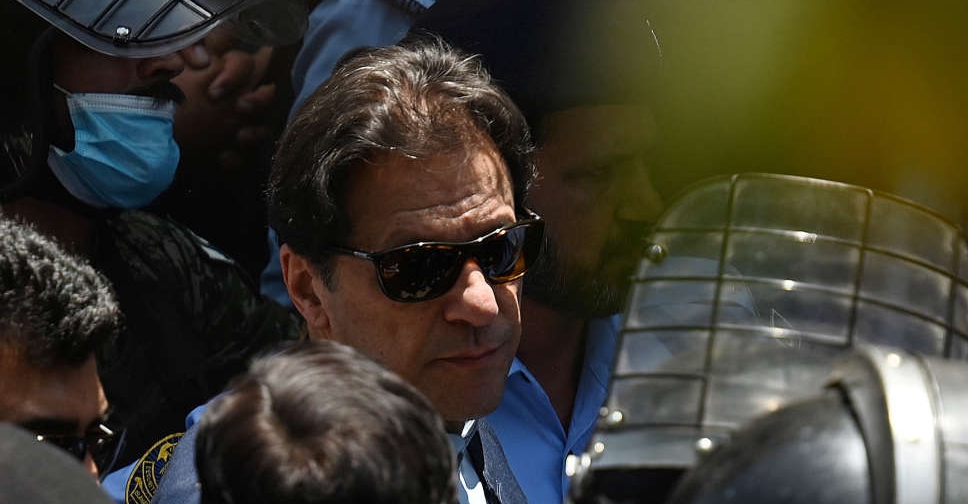 AFP (File Picture)
Pakistan's former prime minister Imran Khan, who faces corruption charges, will not comply with a summons by the country's powerful anti-graft agency to appear before it on Thursday for questioning, his party spokesman said.
Khan was arrested on the charges on May 9 and later set free on court-ordered bail.
A spokesman for the National Accountability Bureau (NAB), which has in the past investigated, put on trial and jailed all those who served as prime minister since 2008, said Khan had been summoned for investigation into the graft charges at the agency's regional office in Rawalpindi, near Islamabad.
Farrukh Habib, a spokesman for Khan's Pakistan Tehreek-e-Insaf party, said Khan would not comply for "multiple reasons" which he did not explain.
Khan's arrest had triggered a wave of violence that deepened political instability in the South Asian nation of 220 million. Pakistan has also been facing its worst-ever economic crisis, with critical IMF funding needed to avert a balance of payment crisis delayed for months.
A day after the Supreme Court declared Khan's arrest illegal, Islamabad high court ordered his release on bail last Friday, and another court on Wednesday extended his protective bail until May 31.
His wife Bushra Khan, commonly known as Bushra Bibi is also on bail until May 23.
On Wednesday, Khan said that police had surrounded his house in Lahore, in Punjab province, and that he expected to be re-arrested soon, after the government warned him to hand over supporters who it blamed for attacks on the army.
Punjab's information minister Amir Mir said the government did not have any plans to arrest Khan as he had been given bail by court. "All we want him to hand over the terrorists hiding at his home," he said.
Mir said intelligence and law enforcement agencies had identified that up to 40 people accused of attacking military installations were hiding at Khan's home. He said Khan had 24 hours to surrender the suspects or face a "police operation".
Khan has said authorities could search his home but only with legal warrants from a court, and has denied sheltering anyone involved in the violence.