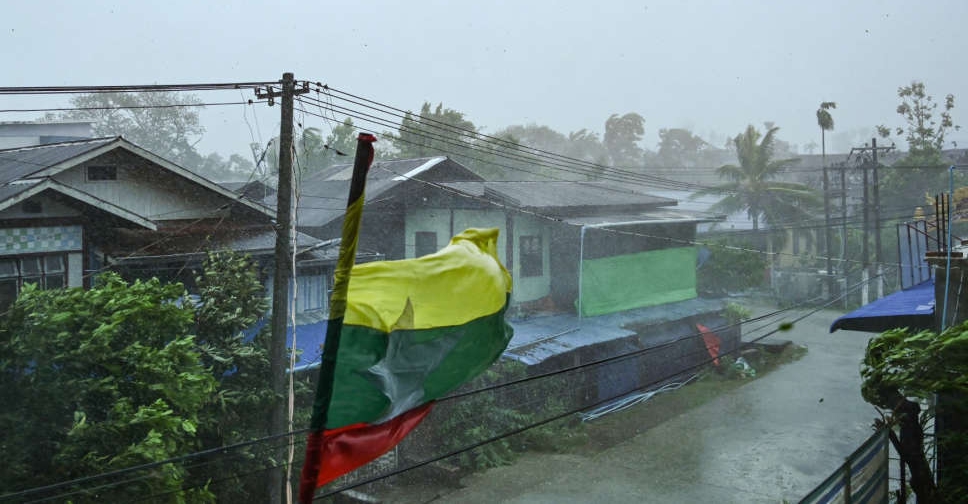 AFP
Storm surges whipped up by a powerful cyclone moving inland from the Bay of Bengal inundated the Myanmar port city of Sittwe, with winds of up to 210 kph ripping away tin roofs and bringing down a communications tower.
Some 400,000 people were evacuated in Myanmar and low-lying neighbouring Bangladesh ahead of Cyclone Mocha making landfall, as authorities and aid agencies scrambled to avert heavy casualties from one of the strongest storms to hit the region in recent years.
Parts of Sittwe, the capital of Myanmar's Rakhine state, were flooded and the ground floors of several buildings were under water, a video posted on social media by a witness in the city showed.
Across Rakhine state and the north west of the country about 6 million people were already in need of humanitarian assistance while 1.2 million have been displaced, according to the UN humanitarian office (OCHA).
Communication networks in Rakhine had been disrupted after the cyclone made landfall, the UN and local media said.
"For a cyclone to hit an area where there is already such deep humanitarian need is a nightmare scenario, impacting hundreds of thousands of vulnerable people whose coping capacity has been severely eroded by successive crises," UN resident coordinator Ramanathan Balakrishnan said.
Myanmar has been plunged into chaos since a junta seized power two years ago. After a crackdown on protests, a resistance movement is fighting the military on various fronts.
REFUGEES
In Bangladesh, where authorities moved around 300,000 people to safer areas before the storm hit, Rohingya refugees inside densely-populated camps in the Cox's Bazar in the south east of the country hunkered down inside their ramshackle homes.
More than a million Rohingya refugees, half-a-million children among them, live in sprawling camps prone to flooding and landslides after having fled a military-led crackdown in Myanmar in 2017.
"The state government has moved many Rohingya from Sittwe camps to higher grounds area," Zaw Min Tun, a Rohingya resident in Sittwe said, adding that the evacuation took place without any warning.
"They also didn't provide any food to them, so people are starving."