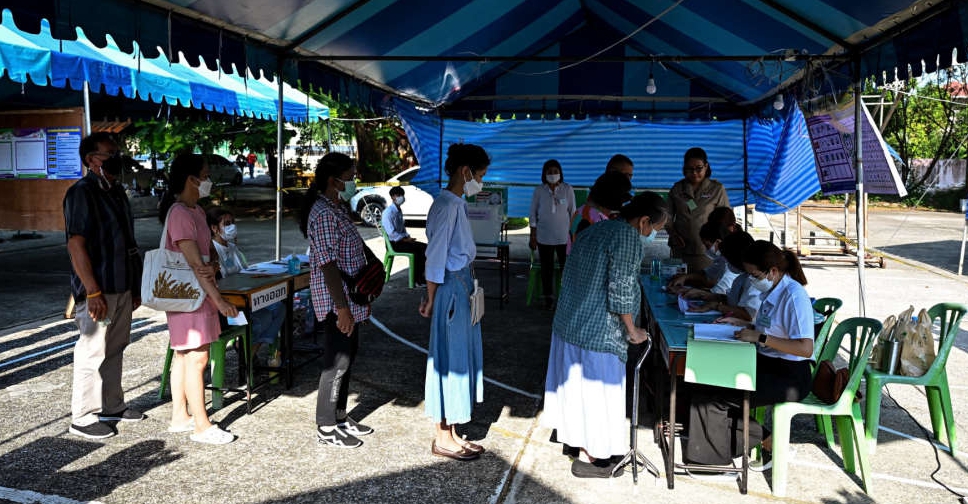 AFP
Thais were forecast to vote in record numbers on Sunday in an election expected to deliver big gains for opposition forces, testing the resolve of a pro-military establishment at the heart of two decades of intermittent turmoil.
About 52 million eligible voters are choosing among progressive opposition parties - one with a knack for winning elections - and others allied with royalist generals keen to preserve the status quo after nine years of government led or backed by the army.
The Election Commission projects turnout of over 80 per cent, with polls to close at 5:00 pm (1000 GMT) and unofficial results expected around 10 pm (1500 GMT), said Chairman Ittiporn Boonpracong.
Opinion polls indicate the opposition Pheu Thai and Move Forward parties will gain the most seats but with no guarantee either will govern because of parliamentary rules written by the military after its 2014 coup and skewed in its favour.
Elsewhere in the capital, prime ministerial hopefuls for the ruling party and opposition groups cast their votes, including incumbent Prayuth Chan-ocha and Pheu Thai's Paetongtarn Shinawatra.
"People need change," Paetongtarn said after casting her vote, expressing "high hopes" for a landslide victory.
The election again pits Pheu Thai's driving force, the billionaire Shinawatra family, against a nexus of old money, military and conservatives with influence over key institutions that have toppled three of the populist movement's four governments.
DICTATORSHIP TO DEMOCRACY
"May 14 will be a historic day. We will change from a dictatorship to a democratically elected government," Paetongtarn told crowds on Friday at Pheu Thai's final rally.
The populist approach of Pheu Thai and its predecessors has been so successful that rival forces that once derided it as vote-buying - military-backed Palang Pracharat and Prayuth's United Thai Nation - now offer strikingly similar policies.
Prayuth has campaigned on continuity, hoping to woo conservative middle-class voters tired of street protests and political upheaval.
Some analysts argue the fight for power in Thailand is more than a grudge match between the polarising Shinawatra clan and its influential rivals, with signs of a generational shift and hankering for more progressive government.
Ben Kiatkwankul, partner at government affairs advisory Maverick Consulting Group, said "the election is a test of the conservative roots and the future of progressiveness.
"The issue is bigger than whether people like or dislike Thaksin or Prayuth. Now it's the old system facing off against the liberalist wave."