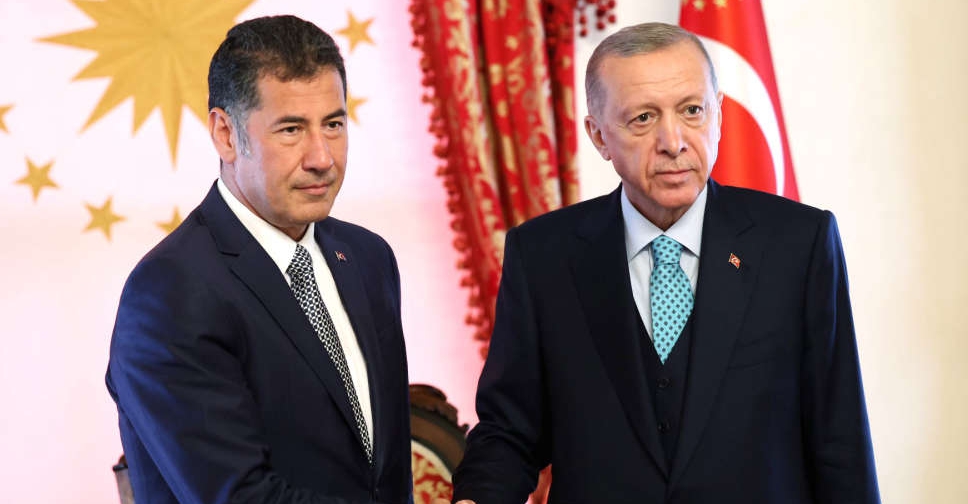 HANDOUT/Press Office of the Presidency of Turkey/AFP
Turkey's third-place election candidate endorsed President Tayyip Erdogan on Monday, boosting the incumbent and intensifying the challenges for opposition candidate Kemal Kilicdaroglu in a Sunday runoff vote.
Sinan Ogan, a hardline nationalist who was little known among the broader public before the campaign, won 5.2 per cent support in the initial presidential election on May 14, prompting some analysts to call him a potential "kingmaker" for the runoff.
"I declare that we will support the People's Alliance candidate Mr. Recep Tayyip Erdogan in the second round," Ogan said at a press conference in Ankara, adding his campaign made Turkish nationalists "key players" in politics.
Kilicdaroglu's Nation Alliance "failed to convince us about the future," while the decision to back Erdogan was based on a principle of "non-stop struggle (against) terrorism," he said.
Erdogan received 49.5 per cent support on May 14 compared to Kilicdaroglu at 44.9 per cent, while the ruling party's coalition won a majority in parliament.
That gives Erdogan an advantage as he seeks to extend his two-decade rule in among Turkey's most consequential elections ever.
Ogan, 55, a former academic, was the first-round presidential candidate of an alliance of right-wing parties led by the Victory Party, which is known for its anti-immigrant stance in Turkey, the world's biggest host of refugees.
In an interview with Reuters last week, Ogan said that his goal was to remove two mainly Kurdish parties from Turkey's "political equation" and bolster Turkish nationalists and secularists.
The pro-Kurdish party HDP has endorsed Kilicdaroglu, while the Kurdish-Islamist Huda-Par backs Erdogan.
Kilicdaroglu has pledged to roll back much of Erdogan's sweeping changes to Turkish domestic, foreign and economic policies, including reversing an unorthodox economic programme to address a cost-of-living crisis.
Erdogan has said a vote for him in the runoff is a vote for stability.