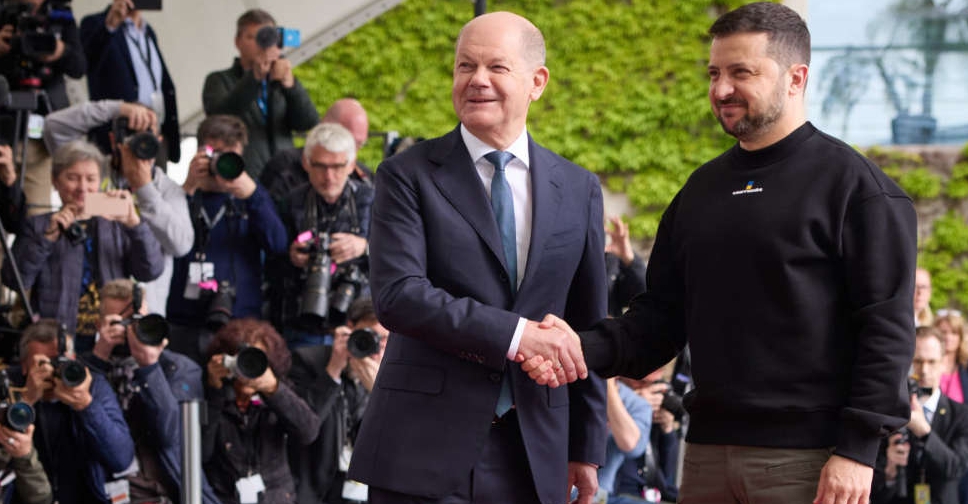 AFP
Ukrainian President Volodymyr Zelenskiy met with Germany's Chancellor Olaf Scholz on Sunday and thanked his government for its "fantastic solidarity" as he secured a big boost in military aid on his first visit to the country since Russia's invasion.
Zelenskiy arrived in Berlin from Rome, where he met on Saturday with Italian Prime Minister Giorgia Meloni and Pope Francis. He flew on a German government plane escorted over German airspace by fighter jets of the Luftwaffe air force, arriving in the middle of the night.
Wearing his trademark khaki combat trousers and a black sweater, the Ukrainian leader was first greeted with military honours by German President Frank-Walter Steinmeier, before heading over to the chancellery to meet with Scholz.
"In the most challenging time in the modern history of Ukraine, Germany proved to be our true friend and reliable ally," Zelenskiy wrote in the guest book of the German presidency. "Together we will win and bring peace back to Europe."
He was expected to hold a news conference with Scholz before later heading to Aachen in west Germany to receive the prestigious Charlemagne prize in honour of services to Europe.
Germany, which is Europe's largest economy, faced criticism at the start of the war for what some called a hesitant response, but it has become one of Ukraine's biggest providers of financial and military assistance.
The government announced 2.7 billion euro ($3 billion) of military aid to Ukraine on Saturday, its biggest such package yet since Russia's invasion in February last year, and pledged further support for Kyiv for as long as necessary.
The package contained 30 of Germany's Leopard tanks as well as fighting vehicles, reconnaissance drones and four Iris-T air defence systems seen as crucial to prevent Russian missiles raining down on Ukrainian cities and critical infrastructure.
Zelenskiy hailed this as a "powerful package" in a tweet, indicating that he aimed to discuss with Germany officials weapons supply as well as air defence, reconstruction, Ukraine's candidacy for membership of the European Union and security.
Berlin's government district came to a standstill early on Sunday due to tight security around his visit, with some public transport suspended, helicopters whirling overhead and snipers on rooftops.