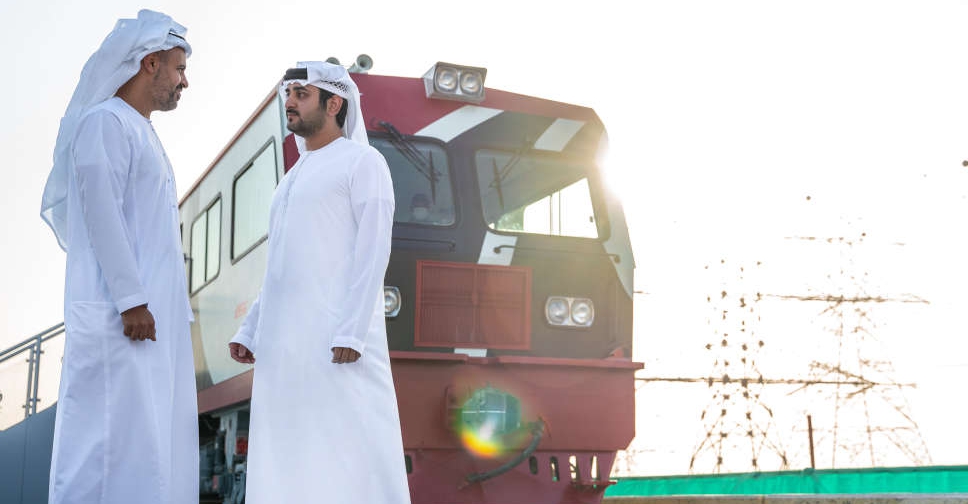 Supplied
The railway link between Abu Dhabi and Dubai has been completed.
The 256 km section is a key part of the Etihad Rail network that will eventually carry freight and passengers across the country.
Its completion was announced by His Highness Sheikh Maktoum bin Mohammed bin Rashid Al Maktoum, Deputy Ruler of Dubai, Deputy Prime Minister and Minister of Finance and His Highness Sheikh Theyab bin Mohamed bin Zayed Al Nahyan, Chairman of the Abu Dhabi Crown Prince's Court and Chairman of Etihad Rail.witnessed the connection of the 256 km line within the National Rail Network.
Their Highnesses installed the final piece on the new railway track, in preparation for linking the rest of the Emirates to an integrated national railway network.
The UAE Railway Programme is expected to create economic opportunities amounting to AED 200 billion.
The line linking Abu Dhabi and Dubai includes 29 bridges, 60 crossings and 137 drainage channels.
It was completed with the participation of 13,300 workers, recording more than 47 million working hours.
Maktoum bin Mohammed bin Rashid & Theyab bin Mohamed bin Zayed witnessed the connection of Abu Dhabi & Dubai with a direct railway line within the UAE National Rail Network & praised the country-wide development project's efforts in helping advance economic integration in the UAE pic.twitter.com/uF4aCkbpGD

— مكتب أبوظبي الإعلامي (@ADMediaOffice) March 1, 2022
Read more: https://t.co/cZ35orfcMl pic.twitter.com/jhZrAbQwk7

— مكتب أبوظبي الإعلامي (@ADMediaOffice) March 1, 2022