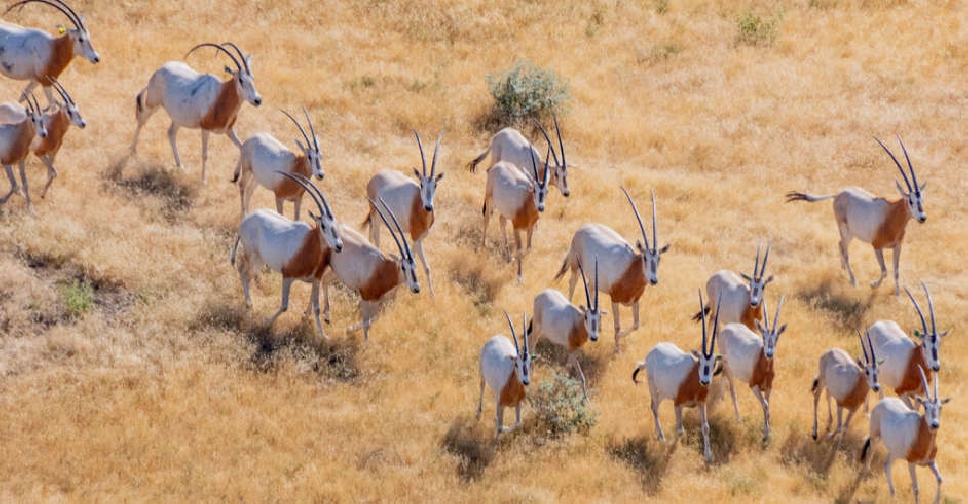 Abu Dhabi Media Office
The Environment Agency – Abu Dhabi (EAD) continues to progress with the world's largest mammal reintroduction programme.
It has successfully translocated rare oryxes, antelopes and gazelles to their natural habitat in Chad over the past few months.
Twenty Scimitar-Horned Oryx (SHO) and 25 Addax were sent to Chad's Ouadi Rime-Ouadi Achim Game Reserve during the past month.
For the first time ever, EAD successfully translocated five Dama Gazelle on March 14.
The herds will be closely monitored to ensure they are adapting well to their wild environment.
Currently there are 460 Scimitar-Horned Oryx in the wild, with 15 calves born so far this year, as well as 96 wild Addax, with 5 calves born to the herd, also this year.
The SHO reintroduction programmes strives to create a self-sustaining herd of over 500 heads in the 77,950 km2 Ouadi reserve, decades after the species was declared 'extinct in the wild' by the International Union for the Conservation of Nature (IUCN) in 2000.
Initiated in 2014, with the first shipment of animals released back into their natural habitats in 2016, the herds have been closely monitored to ensure they are adapting well to their wild environment.
The second phase of the reintroduction programme included adding the critically endangered Addax and, in November 2019, the translocation project was launched with the first pilot batch of 15 animals, followed by the second group of 25 Addax in March 2020.
The reintroduction programme of both species involves close collaboration with a range of international partners.
.@EADTweets has translocated 20 scimitar-horned oryx, 25 addax antelope and five dama gazelles to their natural habitat in Chad as part of the world's largest mammal reintroduction programme. pic.twitter.com/0xTW4DNdcu

— مكتب أبوظبي الإعلامي (@admediaoffice) May 20, 2022
About Scimitar-Horned Oryx
SHO are named after their impressive blade-like horns, which are long and curved like a traditional Arabian sword.
It is difficult to predict how long the SHO can live in the wild, especially given that their native habitat has changed since the species was declared extinct. However, they typically live up to 20 years in captivity.
SHO can survive for months or even years without drinking water. As a grazing animal, they derive most of their daily moisture intake from the plants they eat.
Perfectly adapted to the hot, arid desert climate, SHO also have a unique circulation system in their skull, which cools the blood by up to -15 degrees Celsius (5 degrees Fahrenheit) through capillaries in the nose before it reaches the brain.
SHO can sense the slightest variations in air humidity over distances of more than 100 km. This incredible skill for water divination meant that herds were often followed closely by tribes as they sought water.
About the Addax
The Addax is an arid-land antelope that is very well adapted to living in the harsh deserts of the Sahara, rarely needing to drink water to survive.
Unfortunately, the Addax's impressive spiraling horns, meat and hide have been attractive to humans and their population has plummeted during the last century due to the prevalence of poaching, which has been exacerbated by ubiquitous four-wheel drive vehicles and pressures from oil extraction activities.