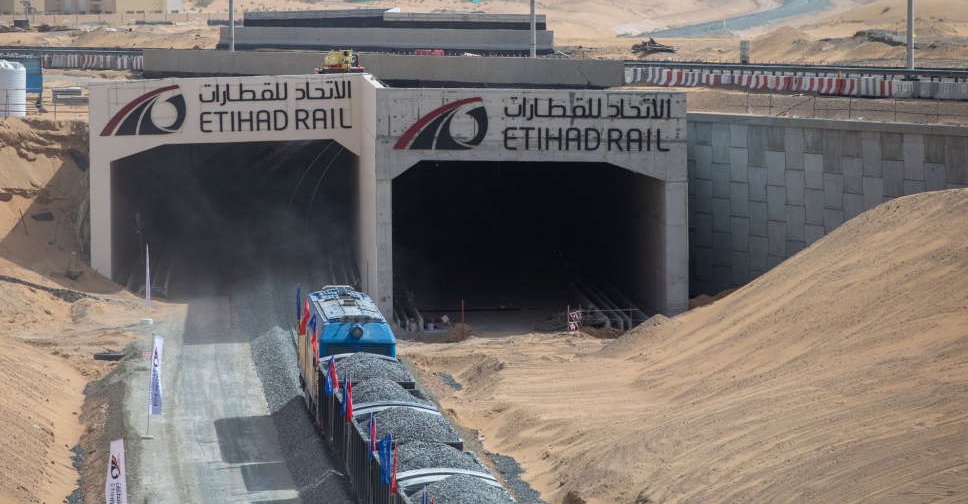 AD Media Office
An agreement worth AED 1.2 billion has been inked for designing, manufacturing, supplying and maintaining passenger trains for the Etihad Rail project.
The official signing of the agreement between Etihad Rail and Spain's CAF company took place in Fujairah's Sakamkam area, where the first passenger train station will be built.
Each train will have a seating capacity of over 400 passengers, and will run up to 200 km/h.
It followed the tour of His Highness Sheikh Theyab bin Mohamed bin Zayed Al Nahyan, Chairman of Abu Dhabi Crown Prince's Court and Chairman of Etihad Rail, at Sharjah's Al Suyoh.
Currently, in Stage Two, the UAE National Rail Network will extend 145 km, connecting the borders of Dubai and Sharjah, going through Fujairah all the way to Ras Al Khaimah. It comprises 54 bridges and 20 wildlife crossing points. It also has 9 tunnels which extend for 6.9 kilometres through Al Hajar Mountains, including the largest heavy freight railway tunnel in the Arab Gulf which runs for 1.8 kilometres.
The trains will serve as a major addition to the public transport system in the UAE.
Etihad Rail Passenger Trains
The trains will connect 11 cities and regions in the UAE from Al Sila to Fujairah, including Al Ruwais, Al Mirfa, Dubai, Sharjah, Al Dhaid, and Abu Dhabi.
It will reduce commute time by 30-40 per cent compared to other modes of transport. Travel time from Abu Dhabi to Dubai, and from Dubai to Fujairah, will take only 50 minutes, while the route between Abu Dhabi and Al Ruwais will be covered in 70 minutes. Meanwhile, the travel between Abu Dhabi and Fujairah will take 100 minutes.
The trains will be equipped with modern amenities, including infotainment systems, and will also offer food and beverages. There will also be different seating segments, including first class, business class and economy.