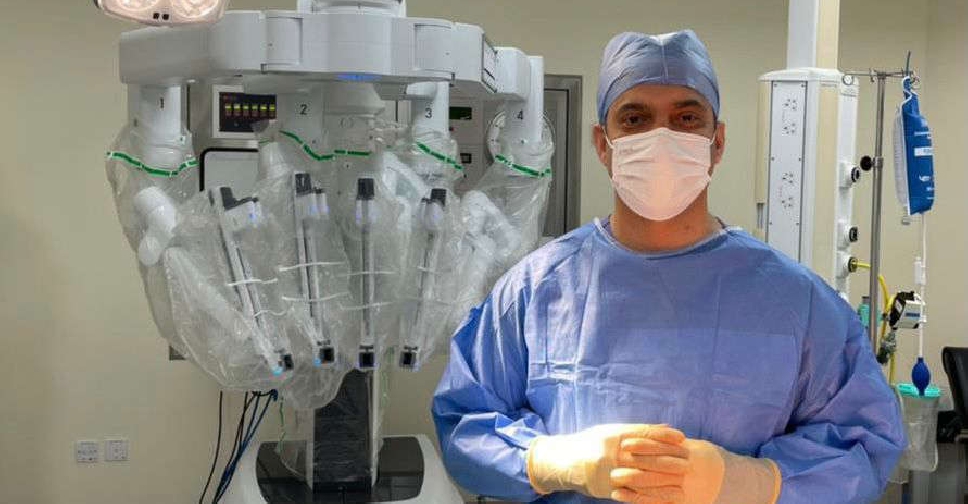 Dubai Media Office
The UAE's first robotic kidney donor surgery has been successfully carried out in Dubai.
Mohammed Bin Rashid University of Medicine & Health Sciences (MBRU) and Mediclinic Middle East came together to perform the complex surgery on two male patients at Mediclinic City Hospital.
The procedure, which was done using state-of-the-art medical technology reflects Dubai's rapid healthcare advancements as well as its potential as a global medical tourism hub.
The patients who benefited from the surgeries are a 42-year-old Dubai resident who was a dialysis patient suffering from an end-stage renal disease whose younger Dubai-based brother donated his kidney for the operation, and a 32-year-old former flight attendant whose first cousin donated his kidney.
The Robotic Living Donor Nephrectomy surgeries, each lasting around three hours, were carried out using the latest da Vinci Surgical System that has small robotic arms that imitate natural dexterity.
"The robotic arm was controlled by a team of surgeons from a console which enabled the removal of the donor kidney through small incisions," explained Dr. Farhad Janahi, Assistant Professor of Surgery, MBRU, Consultant Urologist & Transplant Surgeon and part of the Mediclinic City Hospital Transplant Team.
Robotics surgeries done for living donors ensure a rapid recovery and a faster return to normal life.
"With the healthcare sector's outstanding progress in the country, it is not surprising that the UAE's and Dubai's medical professionals are advancing their capabilities to perform such complex surgeries that use cutting-edge technologies," said Awadh Seghayer Al Ketbi, Director-General of the Dubai Health Authority (DHA).
Mohammed Bin Rashid University of Medicine and Health Sciences (@MBRUniversity) and Mediclinic Middle East have successfully carried out the #UAE's first robotic kidney donor surgery on two male patients at Mediclinic City Hospital.https://t.co/7GVx62LNkq pic.twitter.com/iHoWvcXlG0

— Dubai Media Office (@DXBMediaOffice) October 18, 2021
Awadh Seghayer Al Ketbi, Director-General of the @DHA_Dubai: The healthcare sector in the UAE and Dubai is on par with the most advanced in the world, with the availability of a large pool of medical talent and skilled human resources, the latest technologies and smart solutions.

— Dubai Media Office (@DXBMediaOffice) October 18, 2021