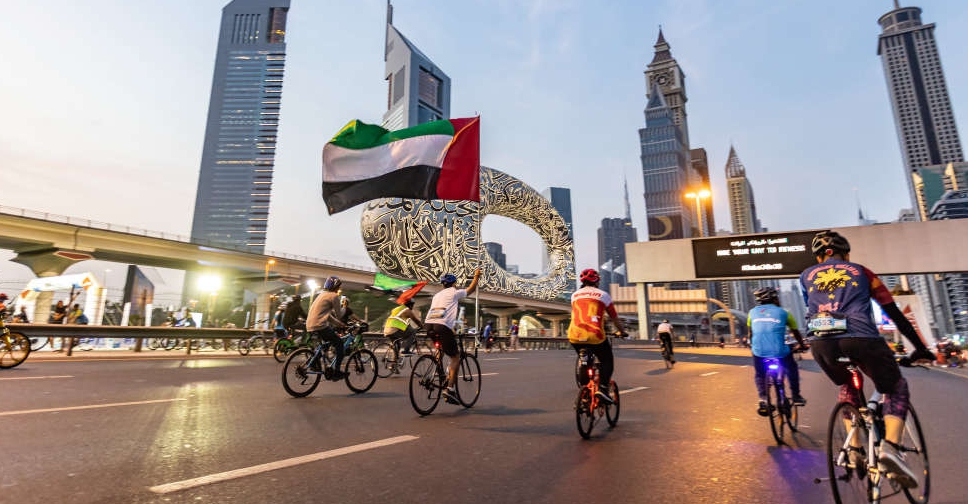 Supplied
The sixth edition of the Dubai Fitness Challenge (DFC) attracted over 2.2 million participants.
Held from October 29 to November 27, the annual fitness movement featured an extensive range of free fitness events and activities across the city.
The initiative led by His Highness Sheikh Hamdan bin Mohammed bin Rashid Al Maktoum, Dubai's Crown Prince and Chairman of The Executive Council of Dubai, once again encouraged everyone to commit to 30 minutes of exercise, every day, for 30 days.
The Challenge offered an exhilarating month of fun and inclusive fitness activities across two fitness villages, DP World Kite Beach Fitness Village, and RTA Last Exit Al Khawaneej Fitness Village, as well as 19 community fitness hubs, a host of sporting events and thousands of free classes.
In addition, participants had a chance to take part in two mega fitness events on Sheikh Zayed Road – Dubai Ride Presented by DP World, and Dubai Run Presented by Mai Dubai – in addition to the inaugural Expo City Dubai Sports and Fitness Weekend.
The Fitness Villages and Fitness Hubs alone were attended by more than 263,000 participants who had the opportunity to engage in diverse activities ranging from Padel tennis and football training to rowing and spinning, apart from several fun high-energy group workouts.
"The participants have set an example for committing to improve their health and wellbeing and contributed to transforming the fitness mindset of the entire community. I want to thank each and every individual, government agency, business and organisation who contributed to or took part in this initiative," said Sheikh Hamdan.
"Together, we are well on the way to becoming the fittest city in the world. While the challenge is over for another year, I encourage all of you to stay active and continue your fitness journey by embracing everything our great city has to offer," he added.
#Dubai Fitness Challenge an initiative of @HamdanMohammed aimed at making Dubai a happier and healthier city, saw 2.2 million participants committing to 30 minutes of exercise, every day, for 30 days. pic.twitter.com/5e2Ui8s1ux

— Dubai Media Office (@DXBMediaOffice) December 3, 2022
Since its inception, Dubai Fitness Challenge has seen a steady increase in interest and engagement with the number of registered participants growing over 180% from 786,000 in the inaugural event in 2017 to 2.2 million in the 2022 edition.
Participants in Dubai Run increased 176% from 70,000 runners in the inaugural edition in 2019 to 193,000 in 2022.
Cyclists taking part in Dubai Ride increased 75% from 20,000 in 2020 to 34,897 in 2022.
The annual event makes Dubai the only city in the world that offers its citizens and visitors an entire month of free and inclusive fitness classes, activities and events, which are easily accessible across the emirate.
In parallel to the growth of the Dubai Fitness Challenge, the emirate has also expanded its community sporting infrastructure and free fitness and lifestyle facilities across the city.
The Roads and Transport Authority (RTA) announced earlier this month that it will increase the network of its cycling tracks from the 542 km achieved in the first quarter of 2022 to 819 km by the end of 2026, as part of the Dubai 2040 Urban Master Plan.
The public also have access to running and cycling tracks and exercise equipment in both parks and beaches.
Dubai Municipality has developed running tracks in various parks currently extending to a total of 37.7 km, while bicycle tracks in parks extend 15.7 km.
A total of 12 km of walking tracks have also been developed by Dubai Municipality in public beaches. The cycling and running tracks have proven to be extremely popular with about 1.86 million people using them so far in 2022.
The growing fitness consciousness of the Dubai community is also reflected in the emirate's rising trade in sports merchandise.
The value of Dubai's foreign trade in sports equipment in 2021 reached AED1.22 billion, while in the first ten months of 2022 (January to October), foreign trade in sports equipment reached AED1.1 billion.