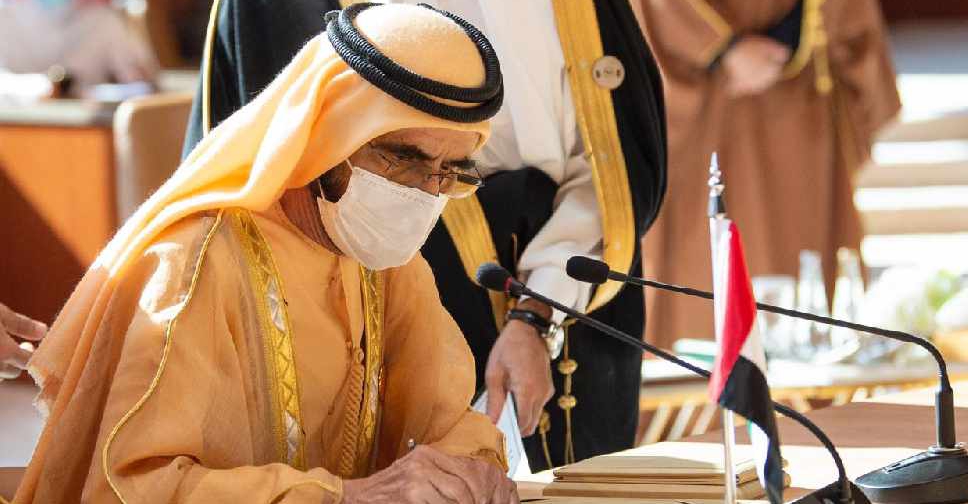 @spagov/Twitter
Leaders and heads of delegations at the 41st Gulf Cooperation Council (GCC) Summit in Saudi Arabia have signed a statement affirming solidarity and stability.
His Highness Sheikh Mohammed bin Rashid Al Maktoum, Vice President and Prime Minister of the UAE and Ruler of Dubai, joined leaders of other Gulf states in signing Al-Ula communique.
The session, which took place at Maraya Hall in Al-Ula began with a keynote address by the Saudi Crown Prince, Mohammed bin Salman bin Abdulaziz, who said: "The current GCC summit is called the Sultan Qaboos and Sheikh Sabah summit."
Sheikh Mohammed thanked the Kingdom of Saudi Arabia for hosting the successful summit and expressed confidence in the progress of the GCC countries.
In a series of Tweets, His Highness added: "The changes and challenges surrounding us require real Gulf strength, cohesion and cooperation as well as Arab depth and stability."
.@HHShkMohd attends the 41st GCC Summit in Al Ula, Saudi Arabia, and signs the closing statement of the 41st GCC summit, Al-Ula statement. pic.twitter.com/gP5xASb4xD

— Dubai Media Office (@DXBMediaOffice) January 5, 2021
محمد بن راشد: قمة العلا لقادة دول مجلس التعاون..قمة إيجابية.. موحدة للصف#القمة_الخليجية_في_العلا pic.twitter.com/rOhb0iYkCg

— Dubai Media Office (@DXBMediaOffice) January 5, 2021
محمد بن راشد: نجدد شكرنا للملكة العربية السعودية رعايتها هذه القمة الناجحة ... ونجدد ثقتنا في مسيرة دول مجلس التعاون .. ونجدد تفاؤلنا بأن السنوات القادمة تحمل استقراراً وأمناً وأماناً وعملاً وإنجازاً سيخدم شعوبنا .. ويسهم في استقرار محيطنا. pic.twitter.com/HYfxNHk4Bw

— Dubai Media Office (@DXBMediaOffice) January 5, 2021
محمد بن راشد: في ١٩٨١ .. قبل أربعين عاماً من اليوم استضاف والدنا ومؤسس دولتنا الشيخ زايد أول قمة في أبوظبي مع إخوانه قادة دول المجلس رحمهم الله جميعاً ... مسيرة التعاون هو إرث هؤلاء القادة لشعوبهم .. واليوم تتعزز المسيرة .. وتترسخ الأخوة .. وتتجدد روح التعاون لمصلحة شعوبنا . pic.twitter.com/fHM9aI9S2j

— Dubai Media Office (@DXBMediaOffice) January 5, 2021
محمد بن راشد: شاركت اليوم في قمة العلا لقادة دول مجلس التعاون..قمة إيجابية.. موحدة للصف..مرسخة للإخوة برعاية أخي خادم الحرمين الشريفين وولي عهده الأمير محمد بن سلمان ..المتغيرات والتحديات المحيطة بنا تتطلب قوة وتماسك وتعاون خليجي حقيقي وعمق عربي مستقر. pic.twitter.com/yVb8FRc3G0

— Dubai Media Office (@DXBMediaOffice) January 5, 2021