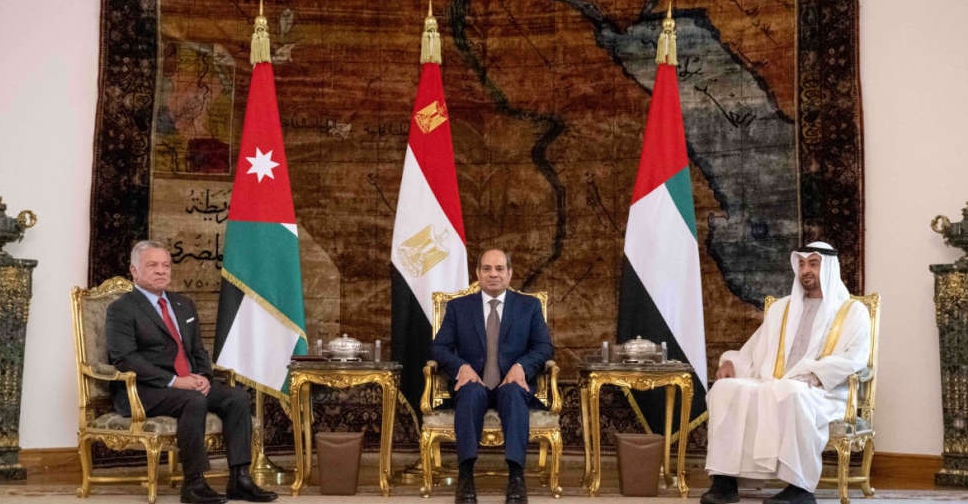 WAM
His Highness Sheikh Mohamed bin Zayed Al Nahyan, Crown Prince of Abu Dhabi and Deputy Supreme Commander of the UAE Armed Forces has held talks with the leaders of Egypt and Jordan.
The meeting between Sheikh Mohamed, Egypt's President Abdel Fattah El-Sisi and Jordan's King Abdullah was held in Cairo.
The three leaders discussed opportunities to further strengthen cooperation between their countries, and ways to reinforce the foundations of regional peace and stability.
They emphasised the importance of strengthening Arab coordination in handling various challenges faced by the region and stressed the need to stop any practices that violate the sanctity of Al-Aqsa Mosque.
The trio also expressed their concern over the humanitarian situation in Ukraine and called for an urgent political solution.
Sheikh Mohamed stressed that ensuring continuing Arab consultation and coordination lies at the heart of the UAE's policy.
Noting the importance of building on the existing opportunities for development, Sheikh Mohamed affirmed that the UAE continues its efforts to enhance Arab cooperation for the higher good of the countries and people of the region.
I had the pleasure of meeting my brothers President Abdel Fattah El Sisi and King Abdullah II in Cairo. We discussed opportunities to further strengthen cooperation between our countries in various fields, and ways to reinforce the foundations of regional peace and stability. pic.twitter.com/EIcaf8e6rC

— محمد بن زايد (@MohamedBinZayed) April 24, 2022