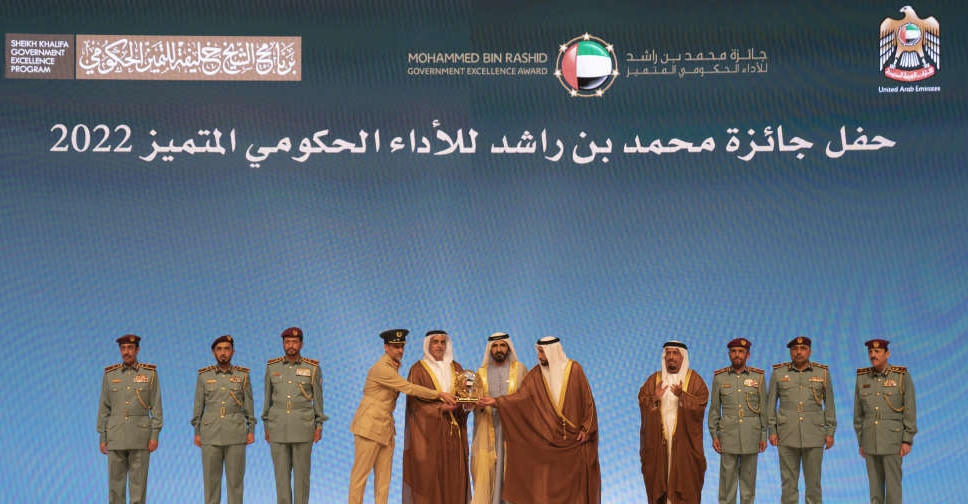 Supplied
The winners of the latest edition of the Mohammed Bin Rashid Government Excellence Award have been honoured at Expo 2020 Dubai.
A number of federal entities, officials and employees were recognised for their exceptional services.
The awards were handed out by His Highness Sheikh Mohammed bin Rashid Al Maktoum, Vice President and Prime Minister of the UAE and Ruler of Dubai.
Ministries and federal departments were honoured across 17 categories while individual medals were handed out in 13 other categories.
The Mohammed Bin Rashid Government Excellence Award was launched in 2009 under the umbrella of Sheikh Khalifa Government Excellence Programme (SKGEP), which was the first integrated federal platform to gauge and celebrate excellence in performance and innovative initiatives in the UAE Federal Government.
The award seeks to promote the role of federal institutions as well as increasing awareness about the principles of excellence and its role in modern governments.
Sixty Emirati assessors and 121 international assessors were involved in the selection of the winners.
شهدت اليوم تكريم الفائزين ضمن جوائز الأداء الحكومي المتميز في حكومة دولة الإمارات … أفضل وزارة .. وأفضل مدير .. وأفضل موظف .. وأفضل طبيب .. وأفضل معلم .. وأفضل الجهات في مختلف مجالات … نبارك للجميع شرف خدمتهم المتميزة لوطننا الغالي .. pic.twitter.com/yGy5aG4GP0

— HH Sheikh Mohammed (@HHShkMohd) March 3, 2022
هذا العام هو الثامن والعشرين الذي أكرم فيه المتميزين ضمن جوائز الجودة والتميز… وعندما نقارن مؤسساتنا وخدماتها وتطورها وكفاءتها بين ١٩٩٤ و ٢٠٢٢ نعرف بأننا قطعنا شوطاً كبيراً جداً في تطوير بلادنا عبر تطوير مؤسساتنا وذلك بفضل هذه الجوائز التحفيزية والتنافسية pic.twitter.com/XdhcRModL4

— HH Sheikh Mohammed (@HHShkMohd) March 3, 2022