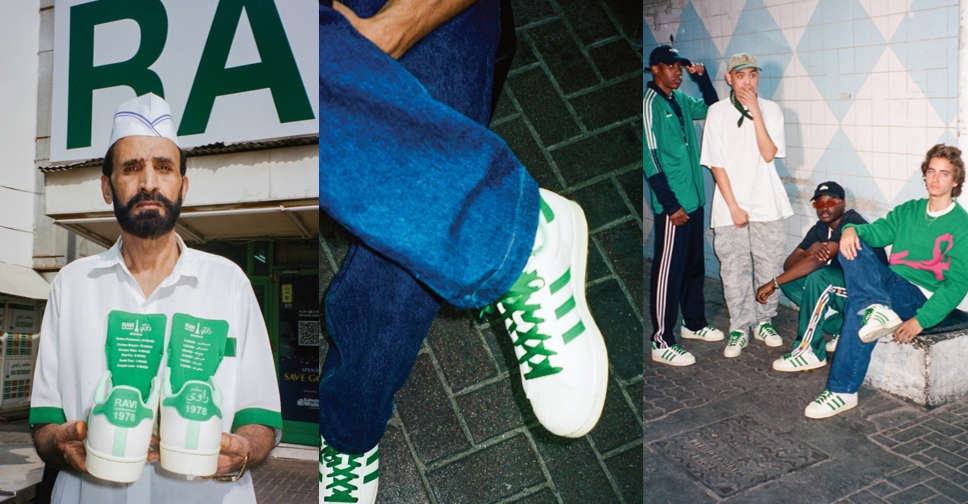 Supplied
The sneaker collection, designed in collaboration with Adidas and Dubai's iconic Ravi restaurant, has sold out "within hours" of the launch.
The limited edition 'SUPERSTAR RAVI' pays tribute to Ravi and its owner's Pakistani heritage.
Ever since the collaboration, which took more than 19 months in the making, was announced, many sneakerheads in the city were eager to get their hands on it.
Parikshit Balochi, a City 101.6 RJ, who was among the first few who bought the sneakers, explained it's all "about supporting local".
Another Dubai resident Lina Feïn-Friedrich, who works as a Marketing Brand Manager, was gifted the pair of sneakers by her husband because both brands mean so much to the couple.
In a tweet, an excited fan wrote: "No matter how old you get, parents never stop prioritising the happiness of their kids huh? My dad proudly showing off the adidas x Ravi collab that he picked up for me earlier today. Waited outside the iconic Dubai restaurant for hours to be one of the first. Unbelievable."
Speaking exclusively to ARN News, Vicki Fitzsimons, Brand Senior Director at adidas MENA, said the shoes sold out "within hours" on their e-commerce platform and "within minutes" at most retail outlets.
The response has been overwhelming, she added, saying there were many who queued up as early as 4:00 am to get their hands on the sneakers.
Fitzsimons even hinted that there could be more collaborations with Dubai in the future.
The brand didn't release how many shoes were sold under the 'SUPERSTAR RAVI' collection, and confirmed they wouldn't be releasing any more shoes despite the demand.
The shoes feature a custom sock liner with a hand-drawn map of the river Ravi, while the heel tab includes the year Ravi opened alongside the name in English and Arabic, along with three sets of laces.
Names of six popular dishes are printed on the tongues of the sneakers, in English on one side and Arabic on the other.
The adidas x Ravi SUPERSTARS sold for AED 549.