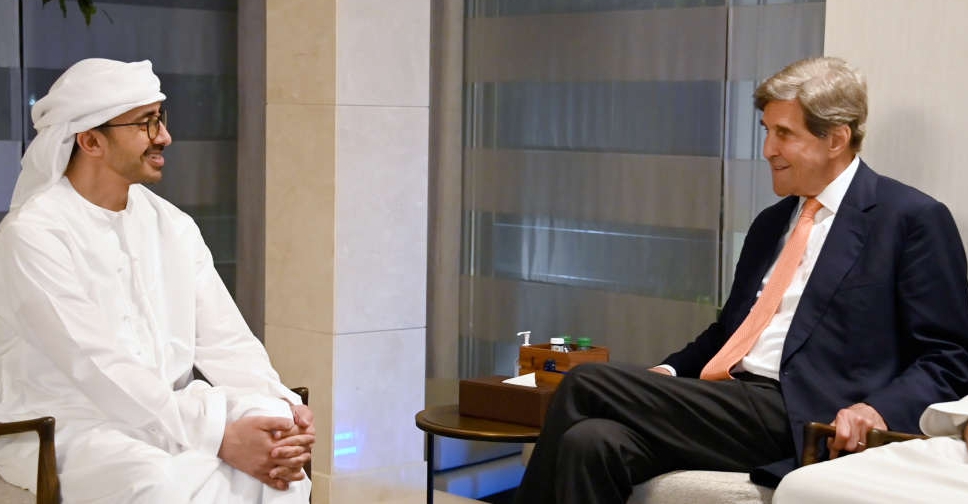 WAM
His Highness Sheikh Abdullah bin Zayed Al Nahyan, UAE's Minister of Foreign Affairs, and US special presidential envoy for climate John Kerry reviewed the joint initiatives undertaken by the two countries in the field of climate action.
During the talks, Sheikh Abdullah highlighted the impact of the UAE-US Partnership for Accelerating Clean Energy (PACE) that will catalyse $100 billion in financing, while deploying 100 new gigawatts of clean energy in the US, UAE and emerging economies around the world by 2035.
It will be "a pioneering paradigm for collaborative action for a climate-safe future with sustainable development and economic prosperity," he added.
The talks touched on the details of the UAE's response to climate change as well as ways of enhancing global cooperation in addressing climate change-related challenges, in light of the country's hosting of COP28 in Expo City Dubai.
Sheikh Abdullah, who also holds the position of Chairman of the Higher Committee Overseeing Preparations for COP28, stressed how the country is "determined to lead global efforts in addressing climate change (during COP28), and to transition these initiatives from the stage of making commitments to the stage of putting into practice specific actions in this area".
Dr. Sultan Ahmed Al Jaber, the UAE Special Envoy for Climate Change and COP28 President-Designate, also attended the meeting.