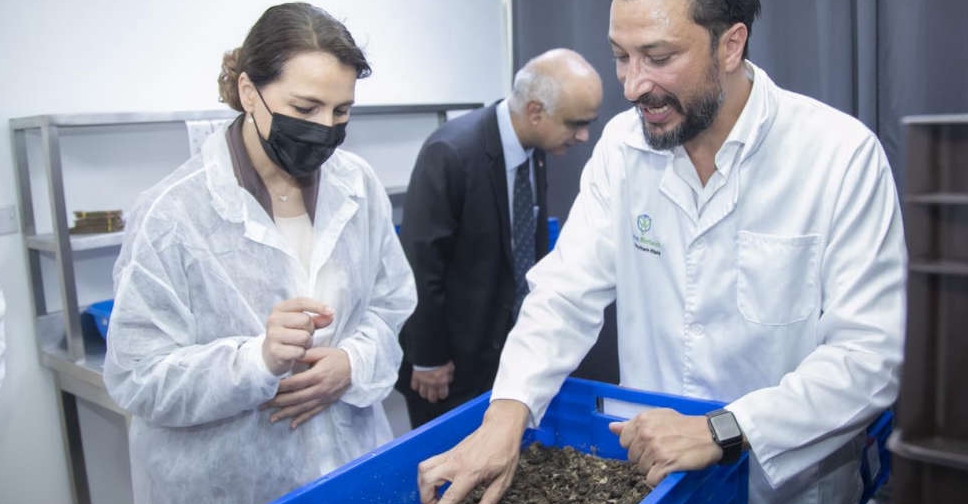 WAM
The region's first project that upcycles organic waste into high-quality products, has been launched in the UAE.
It was inaugurated by Mariam bint Mohammed Almheiri, Minister of Climate Change and the Environment.
The venture by homegrown startup Circa Biotech farms black soldier fly (BSF) larvae, fed by food leftovers before being turned into animal proteins, organic fertilisers, and oils.
During a tour of the company's headquarters in Masdar City in Abu Dhabi, the Ministry signed a memorandum of understanding (MoU) with Circa Biotech to support the pioneering project.
"This agreement is part of the UAE's ongoing drive to enhance food security and sustainability based on innovation, green development, and climate change mitigation," said Almheiri.
"The project leverages nature-based solutions to address challenges resulting from the accumulation of organic waste. This way, it creates sustainable economic opportunities that strengthen the resilience of our food supply chain while transforming waste from an environmental burden into an economic resource," she added.
The minister also explained how the project follows the principles of circular economy by using organic waste and the nutrients it contains as inputs into the feed production process, thus enhancing food security.
Circa Biotech's project will initially produce 1.5 tonnes of organic fertiliser per month.
"It's a commercially viable solution to locally produce animal feed with a highly sustainable process. At a full industrial scale, we plan to produce 22,000 tonnes of animal feed per year," said Haythem Riahi, co-founder and CEO of Circa Biotech.
This will help meet the increasing local demand for livestock feed. It will also curb the dependence on fishmeal in aquaculture, which is witnessing price increases and instability due to limited supply, with its costs reaching up to 80 per cent of expenditure within the industry.
The produced feed is rich in proteins, fats, minerals, and vitamins, and has high nutritional value.
The larvae can be harvested every 14 days due to the BSF's short 45-day lifecycle and high fertility.
The BSF is considered ideal for feed production, as it does not transmit diseases, does not cause any damage or infestations, and is a non-invasive species.
The BSF are reared in an industrial control system (ICS) environment with sensors that record real-time temperature, humidity, and carbon dioxide levels under well-researched lighting.
This model ensures optimal resource use and efficient water consumption, and has limited climate change impact and low emissions.