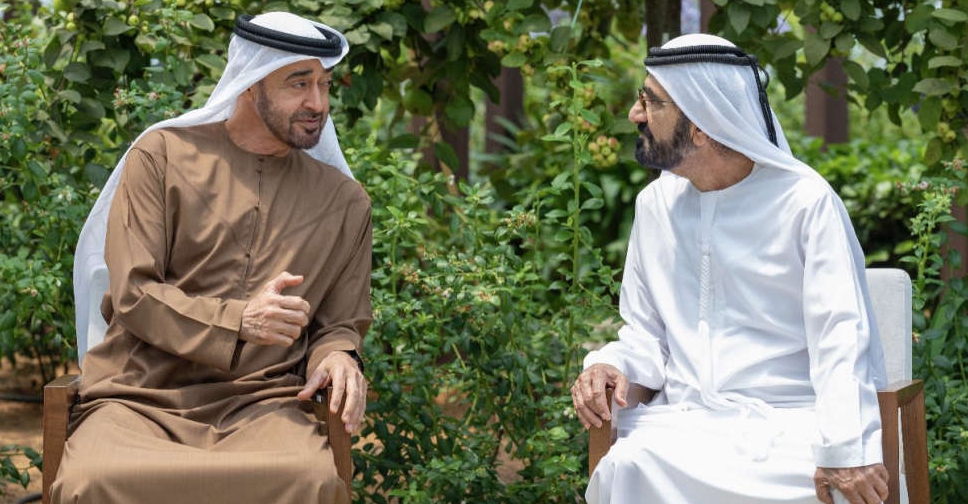 @HHShkMohd/ Twitter
The UAE's leaders have reviewed a new cycle of strategic projects that will contribute to the country's growth.
His Highness Sheikh Mohammed bin Rashid Al Maktoum, Vice President and Prime Minister of the UAE and Ruler of Dubai, held talks with His Highness Sheikh Mohamed bin Zayed Al Nahyan, Crown Prince of Abu Dhabi and Deputy Supreme Commander of the UAE Armed Forces.
During the meeting in Abu Dhabi, their Highnesses discussed ideas and projects aimed at raising the UAE's competitiveness.
They stressed that the UAE looks forward with pride and optimism to the future.
"A new stage of internal and external growth will begin soon," said Sheikh Mohammed bin Rashid.
أثناء لقائي اليوم مع أخي محمد بن زايد في أبوظبي .. اطلعنا واعتمدنا دورة جديدة من المشاريع الاستراتيجية لدولة الإمارات .. مرحلة جديدة من النمو الداخلي والخارجي سنبدأها قريباً .. ونبشر شعبنا بالقادم الجميل .. وبأن يتفاءل بمستقبل ودولة فيها محمد بن زايد وإخوانه pic.twitter.com/DmcyfAe7Lf

— HH Sheikh Mohammed (@HHShkMohd) August 25, 2021
"Under the leadership of President Sheikh Khalifa, our economy is growing stronger, more competitive and able to adapt to global change," added Sheikh Mohamed bin Zayed.
Today I met with my brother Mohammed bin Rashid. We discussed upcoming strategic projects and the future direction of our government. Under the leadership of President Sheikh Khalifa, our economy is growing stronger, more competitive and able to adapt to global change. pic.twitter.com/BmGhgYz85N

— محمد بن زايد (@MohamedBinZayed) August 25, 2021