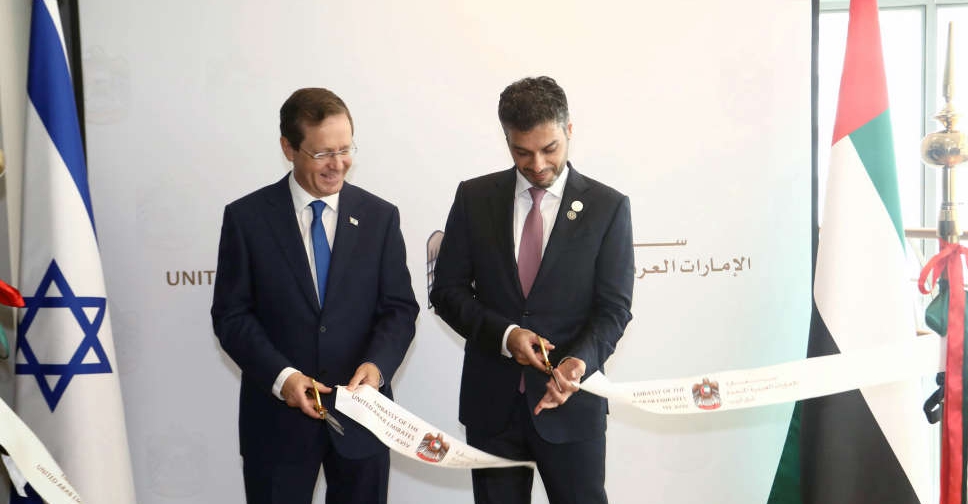 WAM
The UAE officially opened its Embassy in Israel on Wednesday.
Mohamed Al Khaja, the UAE's Ambassador to Israel, inaugurated the mission in Tel Aviv in the presence of Israeli President Isaac Herzog.
Mariam Almheiri, UAE Minister of State for Food and Water Security, was also present.
The opening of the Embassy marks another milestone in diplomatic relations between the two countries following the Abraham Accords Peace Agreement, which was signed in September 2020.
"We hope that the opening of the UAE Embassy in Tel Aviv will mark an important milestone in the growing relationship between our two countries and between the peoples of the UAE and Israel," said Al Khaja.
Great honor to open the UAE Embassy in Israel. The UAE's commitment to the Abraham Accords is unbreakable and is now cast in concrete here, in Tel Aviv. @UAEinIsrael #UAEinIsrael pic.twitter.com/Xl1WgILGhB

— Mohamed Al Khaja (@AmbAlKhaja) July 14, 2021
"The opening of this embassy is an important milestone in our shared journey towards a future of peace, prosperity and security for the Middle East," said President Herzog.
Excited to start the morning with the historic event of the opening of the United Arab Emirates embassy in Israel.

We are a nation of peace and those who are interested in peace with us will be welcomed with open arms. pic.twitter.com/2akAGVxLSt

— יצחק הרצוג Isaac Herzog (@Isaac_Herzog) July 14, 2021