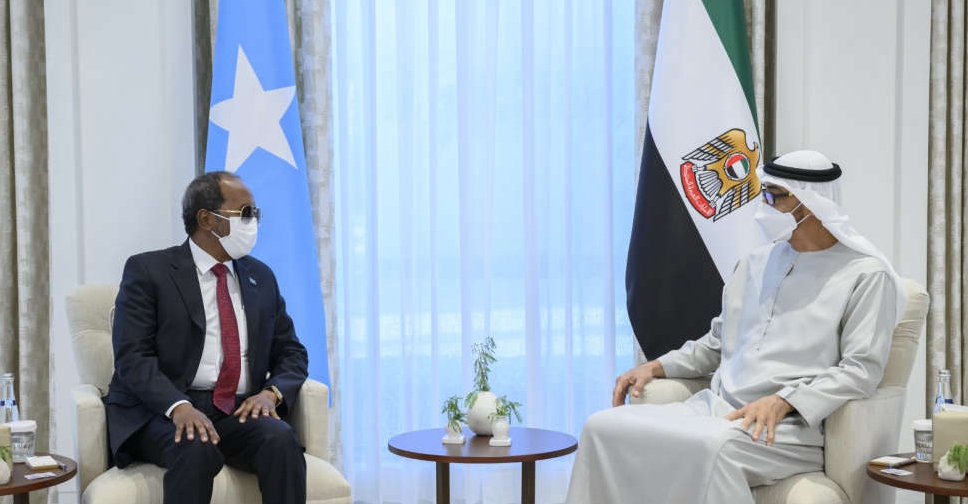 WAM
President His Highness Sheikh Mohamed bin Zayed Al Nahyan has affirmed the UAE's continuous, all-out support for Somali people to achieve their aspirations for stability and prosperity.
He made the remarks as he received the Somali President, Hassan Sheikh Mohamud at Al Shati' Palace in Abu Dhabi.
Sheikh Mohamed welcomed the Somali leader's visit and congratulated him on assuming the presidency, wishing him success in leading his country.
The Somali president expressed his appreciation for the UAE's support and the warm feelings shown by His Highness towards the Somali people.
The meeting between the two leaders addressed the prospects of enhancing bilateral cooperation in various fields, especially in areas of development.
Sheikh Mohamed reaffirmed the UAE's commitment to support the Somali people in their efforts to achieve peace and stability, stressing the UAE's keenness to strengthen the efforts made by the Somali government and state institutions.
The meeting was attended by His Highness Sheikh Mansour bin Zayed Al Nahyan, Deputy Prime Minister and Minister of Presidential Affairs; H.H. Sheikh Hamdan bin Mohamed bin Zayed Al Nahyan; Sheikh Shakhboot bin Nahyan bin Mubarak Al Nahyan, Minister of State; and Dr. Anwar Gargash, Diplomatic Adviser to UAE President; along with Ali bin Hammad Al Shamsi, Deputy Secretary-General of the Supreme National Security Council and Mohamed Ahmed Al Othman, UAE Ambassador to Somalia as well the delegation accompanying the Somali President.