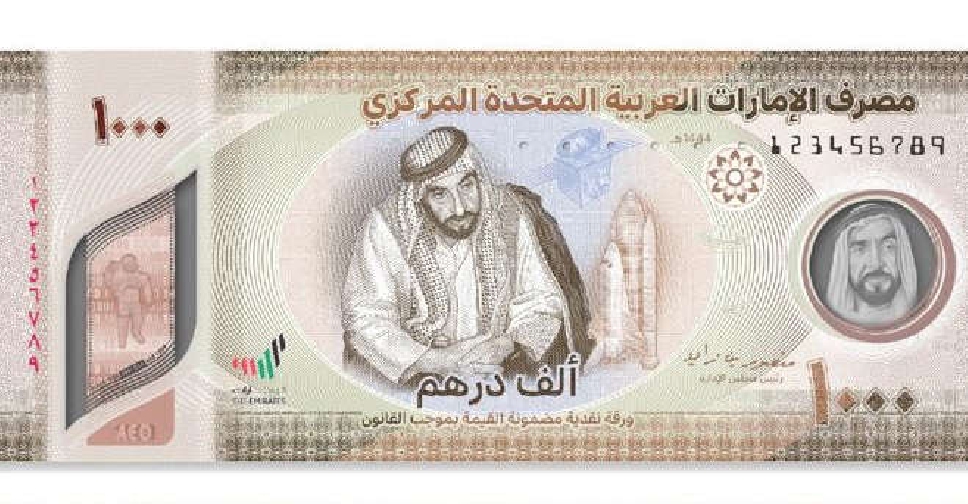 Twitter/WAM
The Central Bank of the UAE (CBUAE) has released a special AED 1,000 note to mark the country's 51st National Day. 
The currency is designed to pay tribute to the UAE's major achievements in space exploration and climate action.
The front side features an image of the late Sheikh Zayed bin Sultan Al Nahyan, next to a model of a space shuttle, marking his 1976 meeting with the pioneers of NASA.
The words 'Emirates Mission to Explore Mars - the Hope Probe' are printed on the left side, with an image of an astronaut appearing on both sides of the currency as a security mark. It marks the arrival of the first Emirati astronaut to space.
The back of the note depicts the Barakah Nuclear Energy Plant, which highlights the country's efforts towards reducing carbon emissions and tapping into clean energy.
Made of polymer, the currency will feature advanced security features and will be available in Central Bank branches and ATMs during the first half of 2023.
The note also has prominent symbols in Braille to help the visually impaired identify the currency.
المصرف المركزي يصدر ورقة نقدية جديدة من فئة الـ 1000 درهم، مصنوعة من مادة البوليمر، وبتصاميم مبتكرة وخصائص أمنية حديثة ومتطورة، تماشياً مع رؤية القيادة الرشيدة، واستراتيجية #الإمارات وتطلعاتها المستقبلية، وتزامناً مع الاحتفالات بـ #عيدـالاتحاد51🇦🇪 #وام_اقتصاد pic.twitter.com/xGsUTOOrMA

— وام الاقتصادية (@BusinessWam) December 2, 2022

.