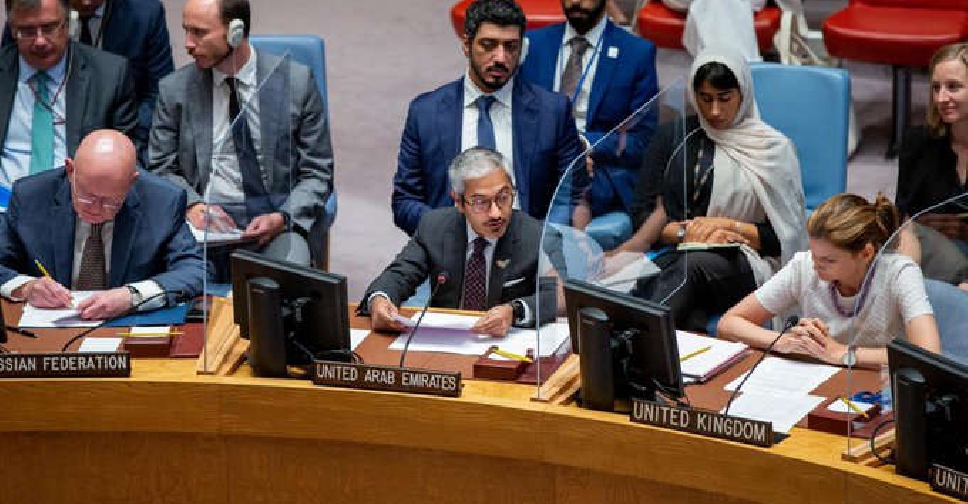 via Twitter @UAEMissionToUN
The UAE is calling on all United Nations organisations to stop using the term "Islamic State" when referring to the group.
In a statement to the UN Security Council in New York, Ambassador Mohamed Abushahab, Deputy Permanent Representative and Chargé d'Affaires, said they must not allow them and other groups to hijack a religion of tolerance and give credence to their pretences - there is nothing Islamic about terrorism.
The statement came as the UN confirmed the threat posed by the terrorist fighters and their affiliates remains "global and evolving".
Presenting the Secretary-General's fifteenth report, UN counter-terrorism chief Vladimir Voronkov said the group continues to exploit conflict dynamics, governance fragilities and inequality, to incite, plan and organise terrorist attacks.
They also exploit pandemic restrictions, misuse digital spaces to recruit sympathisers and have "significantly" increased the use of unmanned aerial systems, as reported in northern Iraq.
In charting the group's expansion across Iraq, Syria and through areas of Africa that until recently had been largely spared from attacks, Voronkov attributed their success in part to a decentralised structure focused around a "general directorate of provinces" and associated "offices".
These operate in both Iraq and Syria, as well as outside the core conflict zone – notably in Afghanistan, Somalia and the Lake Chad Basin.
Better understanding and monitoring, including through global and regional cooperation, are vital to counter the threat, the report said.
Providing an overview of vulnerabilities around the world, Mr. Voronkov said that the border between Iraq and Syria remains highly vulnerable, with an estimated 10,000 fighters operating in the area.
In April, the group launched a global campaign to avenge senior leaders killed in counter-terrorism operations.
While the number of attacks claimed or attributed to local affiliates has decreased in Afghanistan, since the Taliban assumed control last year, its presence has expanded into the north-east and east of the country.
In Europe, the group has called on sympathisers to carry out attacks by exploiting the easing of pandemic restrictions and the conflict in Ukraine, the report concluded.
There is nothing Islamic about terrorism.

Today, #UAExUNSC called on the entire @UN system to put an end to the use of "Islamic State" in its references to Da'esh.

Watch below ⬇️ pic.twitter.com/Grb7KP1FEv

— UAE Mission to the UN (@UAEMissionToUN) August 9, 2022
UAE MISSION TO THE UN STATEMENT
In the statement issued by Ambassador Mohamed Abushahab, the UAE emphasised four key points
"First, technology has the potential to considerably improve the quality of people's lives. However, it can also be a double-edged sword: rapid technological evolution and wide commercial availability challenges Member States' efforts to prevent misuse by terrorist groups. Still, emerging technologies have tremendous potential to aid in efforts to prevent, counter, and address terrorism. For instance, we have seen the UN Investigative Team to Promote Accountability for Crimes Committed by Da'esh employ artificial intelligence to analyze massive amounts of data in support of the prosecution of Da'esh members.
"As underlined in the latest report by the Secretary-General, Da'esh has been able to substantially increase its use of remotely piloted aircraft systems acquired through a variety of means, including through the use of front companies and the conversion of commercial drones for lethal use. It is imperative that the international community take serious steps towards addressing the acquisition of drones and their components by terrorist groups, including Da'esh, Al-Shabaab, and the Houthis. Key gaps in the existing international framework must also be identified and addressed while being mindful of the essential role that autonomous and remotely operated systems play in counter-terrorism efforts.
"Second, we take this opportunity to focus on the exploitation of Islam by terrorist groups to justify their acts of violence and hate through self-proclaimed Islamic appellations. We must not permit Da'esh and other groups to hijack a religion of tolerance and give credence to their pretences. I want to reiterate: there is nothing Islamic about terrorism. Therefore, we call on Member States and the UN system to put an end to the use of "Islamic State" in their reference to Da'esh, and to apply the same principles to prevent the exploitation of religion by other terrorist groups.
"Third, as a matter of urgent priority, this Council must focus on preventing the emergence of the next generation of terrorists and extremists. As an example, at Al-Hol camp, more than 25,000 children are at potential risk of radicalization. Genuine efforts must be made to give these children hope for a more peaceful and prosperous future. In this regard, we appreciate the important work carried out by UNOCT, CTED, and other relevant UN entities in support of gender-responsive prosecution, rehabilitation, and reintegration measures that also address the specific needs of children.
"Finally, it is essential that this Council uses all its available tools and instruments in addressing the gaps and emerging challenges in the current counter-terrorism architecture. This includes the consideration of practical measures against all individuals, groups, or entities involved in, or associated with terrorist activities."