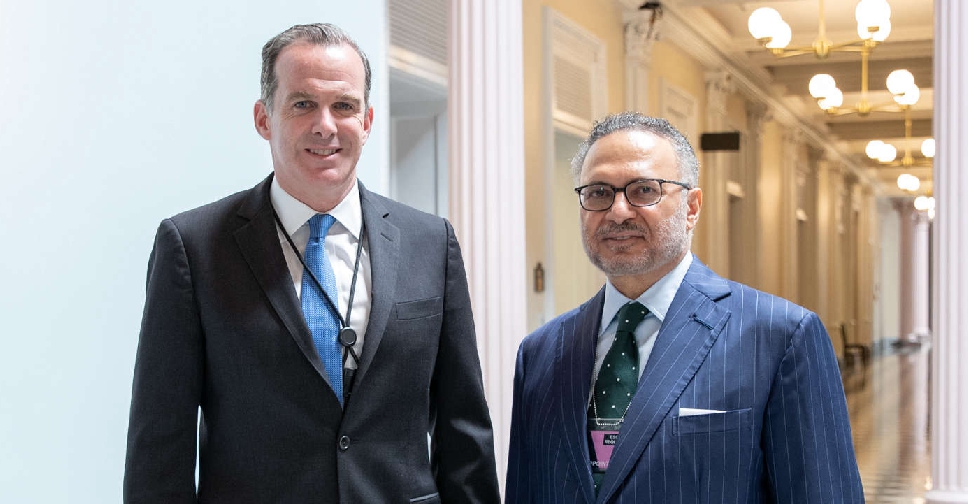 Dr Gargash (right) with Brett McGurk (left), White House Coordinator for the Middle East and North Africa. Twitter/(@UAEEmbassyUS)
UAE-US ties remain strong as the nations pursue diplomatic solutions to shared challenges in light of Dr Gargash's week-long visit to Washington
Dr Anwar Gargash, Diplomatic Advisor to the UAE President, will meet with senior Biden Administration officials, members of Congress and foreign policy analysts to reinforce the UAE's firm commitment to de-escalation and diplomacy while increasing cooperation on climate challenges, COVID-19 and nuclear proliferation.
"The US and UAE are close friends and important allies who share the same outlook for a more peaceful and prosperous Middle East," said Dr. Gargash.
Increasing bilateral trade and investment is a key priority for the UAE, which is already the US' largest export destination in the Middle East and a significant investor in the US.
Dr. Gargash's visit will be the first by a senior UAE diplomat since the signing of the Abraham Accords, which normalised UAE relations with Israel.
NSC Coordinator for the Middle East and North Africa Brett McGurk met with UAE Presidential Advisor @AnwarGargash. They reaffirmed the strong bilateral relationship and, together with senior officials from @StateDept and @DeptofDefense, discussed regional developments.

— National Security Council (@WHNSC) July 12, 2021
On Thursday, Dr Gargash is scheduled to speak at the Johns Hopkins University School of Advanced International Studies (SAIS).