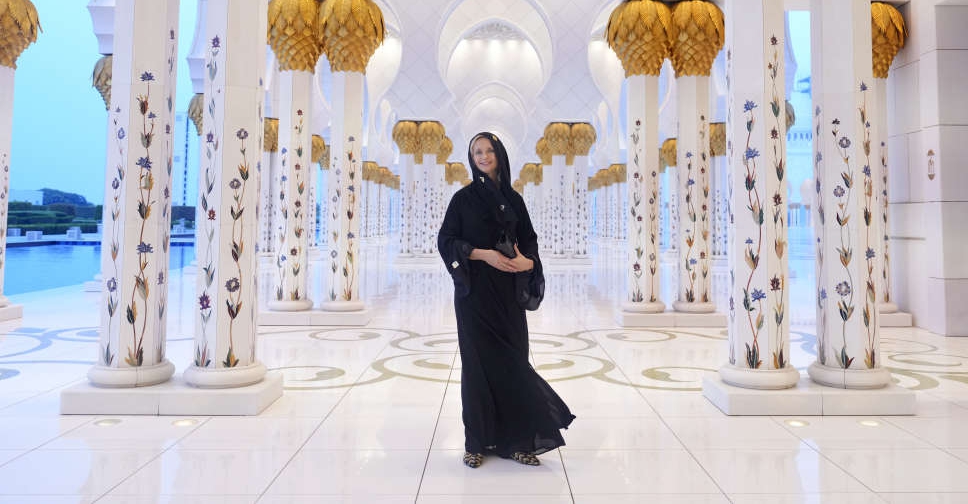 WAM
Martina Strong, the United States Ambassador to the UAE, has visited Sheikh Zayed Grand Mosque accompanied by Dr. Youssef Al Obaidli, the Director General of Sheikh Zayed Grand Mosque Centre.
During the visit, the Ambassador and accompanying delegation were acquainted with the mosque's cultural message, which revolves around coexistence, tolerance, and openness towards all.
They also learned about the significant role played by Sheikh Zayed Grand Mosque Centre in introducing the tolerant Islamic culture and its global leadership as a distinctive model among other places of worship that extends beyond being solely a place for religious rituals and prayers, encompassing its role in promoting the UAE's cultural and civilisational message, based on coexistence, peace, and harmony amongst different cultures of the world.
They also explored the specialised library of the Centre, which houses a collection of rare precious Arabic manuscripts in the form of microfiche, and the Centre's distinguished publications, which illuminate the vast wealth of sciences, arts, and cultural heritage of Islamic civilisations, which have played a pivotal role in enlightening humanity as a whole.
They also explored the mosque's unique collections and contributions to Islamic civilisation throughout the ages in terms of arts and architectural designs, which varied in their designs and diversity in the mosque's construction, reflecting the beauty of cultural harmony and its integration in one creative work.
At the end of the visit, she was presented with a copy of the book Spaces of Light, one of Sheikh Zayed Grand Mosque Centre's publications, which includes several distinguished and award-winning photographs from their photography award organised by the Centre, highlighting the beauty of Islamic architecture in the mosque.
US Ambassador to UAE visits Sheikh Zayed Grand Mosque#WamNews https://t.co/RWjkICWQkb pic.twitter.com/TcKIDJPshv

— WAM English (@WAMNEWS_ENG) September 17, 2023