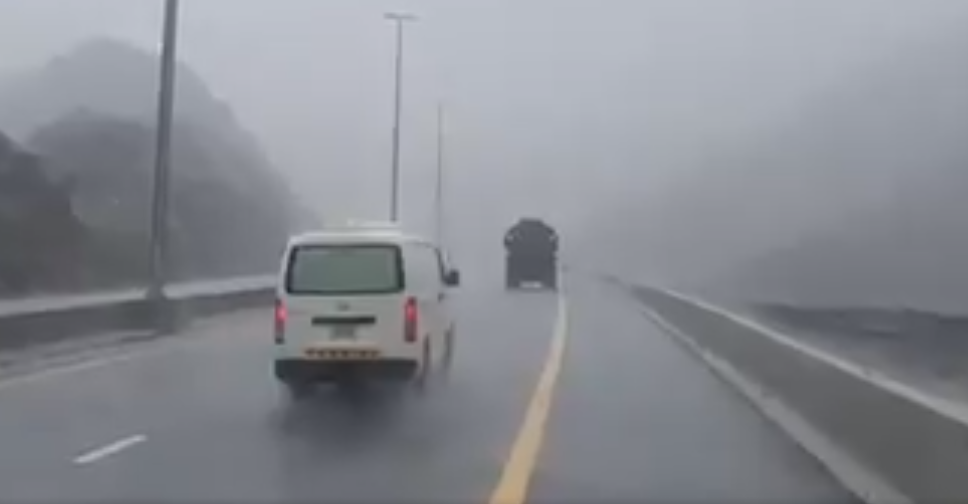 @NCMS_media/ Twitter
It's been raining in several parts of the UAE as predicted by the weather bureau.
The National Centre of Meteorology (NCM) posted footage of heavy rainfall in Sharjah's Suhaila area and in Hatta.
Showers were also reported in Masfout (Ajman), Kalba and Wadi Al Helo.
The authority had earlier issued a yellow alert for rain, blowing dust and reduced visibility in parts of the country's Eastern mountainous areas.
طريق وادي الحلو كلباء⁧#المركز_الوطني_للأرصاد⁩ ⁧#أمطار_الخير⁩ ⁧#أصدقاء_المركز_الوطني_للأرصاد⁩ ⁧#حالة_الطقس⁩ ⁧#حالة_جوية⁩ ⁧#هواة_الطقس⁩ #عبدالله_النعيمي ⁩ pic.twitter.com/NsaALg3wBp

— المركز الوطني للأرصاد (@NCMS_media) July 15, 2021
#الامارات : الان جريان الشعاب والاودية في الحويلات شمال حتا في المنطقة الشرقية #منخفض_العرب .
١٥/٠٧/٢٠٢١#مركز_العاصفة pic.twitter.com/ughowKKMnr

— مركز العاصفة (@Storm_centre) July 15, 2021
#Alert #NCM
Chance of convective clouds associated with rainfall and fresh winds with speed of 40 km/hr. causing blowing dust and sand reducing the horizontal visibility at times over some Eastern areas from 08:00 to 21:00 Thursday 15/07/2021. pic.twitter.com/Fe3WoL5SE5

— المركز الوطني للأرصاد (@NCMS_media) July 15, 2021