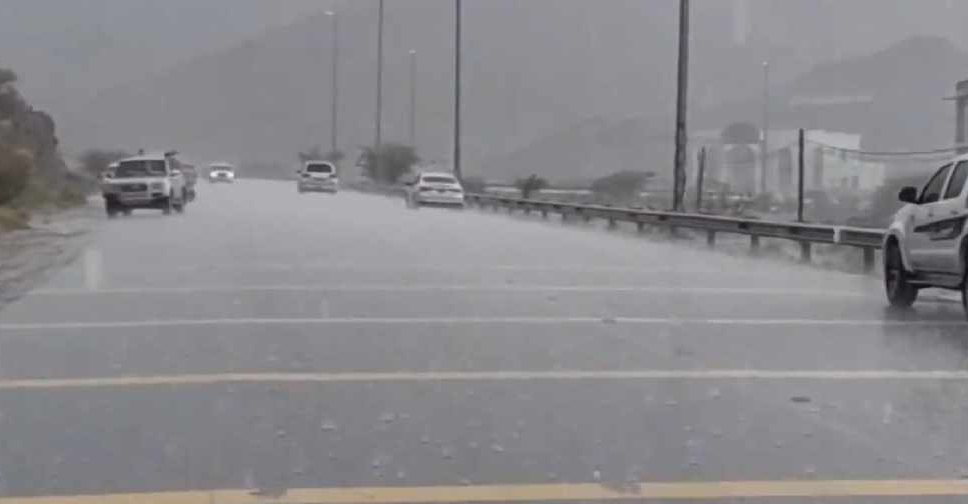 @NCMS_media/ Twitter
Heavy rain and hail hit parts of the UAE on Monday.
The National Centre of Meteorology (NCM) posted footage of heavy rainfall in Fujairah and Sharjah's Wadi Al Helo.
The authority had earlier issued a yellow alert for rain, blowing dust and reduced visibility in parts of the country's Eastern mountainous areas.
وادي مي المنطقة الشرقية حالياً ⁩ ⁧#المركز_الوطني_للأرصاد⁩ ⁧#أمطار_الخير⁩ ⁧#أصدقاء_المركز_الوطني_للأرصاد⁩ ⁧#حالة_الطقس⁩ ⁧#حالة_جوية⁩ ⁧#هواة_الطقس #راشد_القايدي #عواصف_الشمال pic.twitter.com/LBdnkxXO3m

— المركز الوطني للأرصاد (@ncmuae) May 24, 2021
وادي مي المنطقة الشرقية حالياً ⁩ ⁧#المركز_الوطني_للأرصاد⁩ ⁧#أمطار_الخير⁩ ⁧#أصدقاء_المركز_الوطني_للأرصاد⁩ ⁧#حالة_الطقس⁩ ⁧#حالة_جوية⁩ ⁧#هواة_الطقس #سعيد_القايدي #عواصف_الشمال pic.twitter.com/gh62xUYVJD

— المركز الوطني للأرصاد (@ncmuae) May 24, 2021
#Rain #Cloud_Seeding #NCM
A chance of convective clouds may be associated with rainfall and fresh winds causing blowing dust and sand reducing the horizontal visibility at times over some Eastern Mountains areas from 13:45 to 19:00 Monday 24/05/2021. pic.twitter.com/dtjssfq9bD

— المركز الوطني للأرصاد (@ncmuae) May 24, 2021
#الامارات : الان هطول أمطار الخير على وادي مي جنوب الفجيرة #مركز_العاصفة
٢٤ مايو ٢٠٢١ pic.twitter.com/6Xz4w5Os3j

— مركز العاصفة (@Storm_centre) May 24, 2021