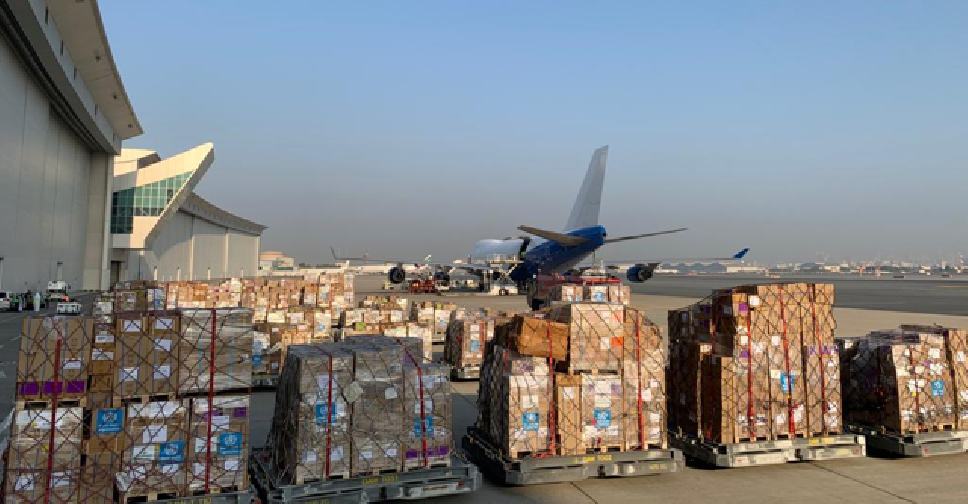 @DXBMediaOffice/ Twitter
The World Health Organisation (WHO) has praised the UAE's efforts in facilitating the delivery of basic health supplies and medicines in Sudan.
An emergency humanitarian air bridge was recently ordered by His Highness Sheikh Mohammed bin Rashid Al Maktoum, Vice President and Prime Minister of the UAE and Ruler of Dubai.
The vital supplies were transported to Khartoum from the WHO's logistics hub in Dubai.
At least 1.5 million people in Sudan, including over 300,000 front-line health workers are expected to benefit from the latest initiative.
The WHO extended its gratitude to Sheikh Mohammed and commended the UAE's continued support for countries in need.
Dr. Nima Abid, WHO Representative to Sudan, said the UAE's gesture had helped save lives and alleviate people's suffering.
The health supplies include over 283 tonnes of medicines worth over US$2 million.
The aid will be distributed to health facilities in 18 Sudanese provinces, with technical employees from the International Humanitarian City facilitating the distribution process.
Ruler of Dubai orders humanitarian air-bridge to Sudan in support of WHO operations - https://t.co/TT2gHjXYPx pic.twitter.com/pBV1MvQo4r

— IHC (@IHC_UAE) October 24, 2021
Dr Nima Abid, @WHO Representative in Sudan: We are very grateful to @HHShkMohd for making his royal aircraft available to WHO, and for #Dubai's continued support in making these flights happen. pic.twitter.com/tXYX5a3p5x

— Dubai Media Office (@DXBMediaOffice) October 25, 2021
. @WHO has delivered critical medicines and health supplies from its logistics hub in #Dubai to Khartoum, Sudan to address the health needs of 1.5 million people, including the protection of over 300 000 front-line health workers. pic.twitter.com/LfFkr8Ekqk

— Dubai Media Office (@DXBMediaOffice) October 25, 2021