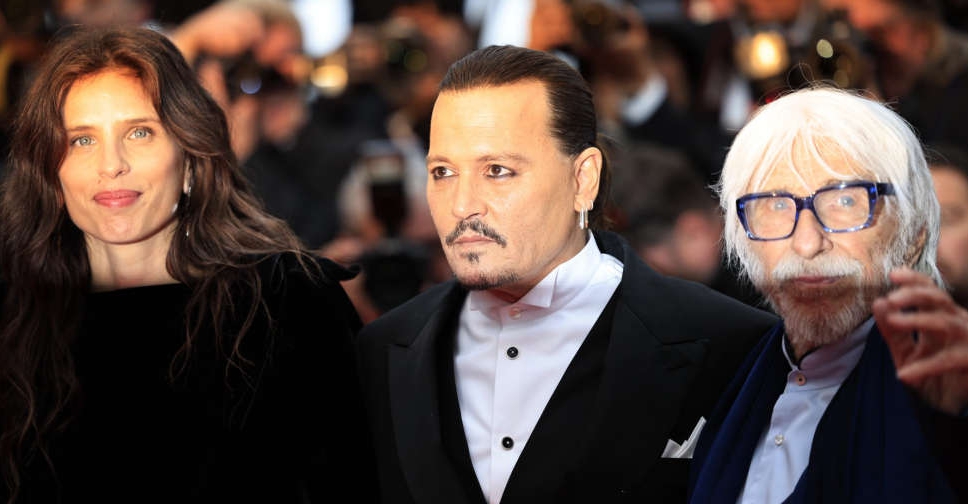 AFP
Johnny Depp seemed back in full celebrity mode as he was seen signing autographs and taking pictures with fans before the premiere of the Cannes Film Festival's opening film "Jeanne du Barry," which marks the actor's first major role since his high-profile defamation trial.
Fans in the French Riviera city were seen hoisting signs that read "Congrats, Johnny" and "We are sorry" with a heart.
The festival delivered on its glamorous reputation with a parade of stars including Mads Mikkelsen, a blue-haired Helen Mirren and John C. Reilly making their way across the red carpet.
Michael Douglas, accompanied by his wife, Catherine Zeta-Jones, and their daughter, did not stop to sign autographs as he made his way into the Grand Theatre Lumiere, where the 78-year-old actor was given an honourary Palme d'Or.
"There are hundreds of film festivals all around the world, but there's only one Cannes," Douglas told the crowd. "And suddenly, (it's) 76 years old - I'm even older than the festival," he quipped.
French cinema icon Catherine Deneuve, 79, who graces this year's festival poster, was also invited on stage to speak to guests.
Depp plays King Louis XV in Jeanne du Barry, directed and starring French actor and director Maïwenn Le Besco, known as Maïwenn, as the French courtesan Madame du Barry who climbed the social ladder at Versailles to become the king's favourite.
Critics highlighted the lush look of the film, which received funding from Saudi Arabia's Red Sea Film Foundation as part of a total estimated budget of $22.4 million - but said it lacked a pulse.
"Even the casting - some would say stunt casting - of Johnny Depp as the king offers a few early thrills and then mostly yawns," wrote The Hollywood Reporter.
The French-language film, which does not yet have a release date for North America, marks the start of a comeback for the Pirates of the Caribbean actor, who has made few film or TV appearances since his trial concluded in June 2022.
Depp was handed a near-total victory by a US jury in his defamation fight with former wife and actor Amber Heard, with jurors awarding him more than $10 million in damages.
Less than two years before, Depp lost a libel suit in Britain against the Sun tabloid, which called him a "wife beater". Shortly after, Depp was dropped from the "Fantastic Beasts" movie franchise, a "Harry Potter" spinoff.
Festival director Thierry Fremaux said on Monday that he was unaware of Depp's image in the US and because he was not banned from acting, there was no reason not to include the film.
An open letter signed by more than 100 actors published on Tuesday in French newspaper Liberation criticised Cannes for "rolling out the red carpet to the men and women who assault". It said that sent a message that there were no consequences for such actions, though it did not give any specific names.