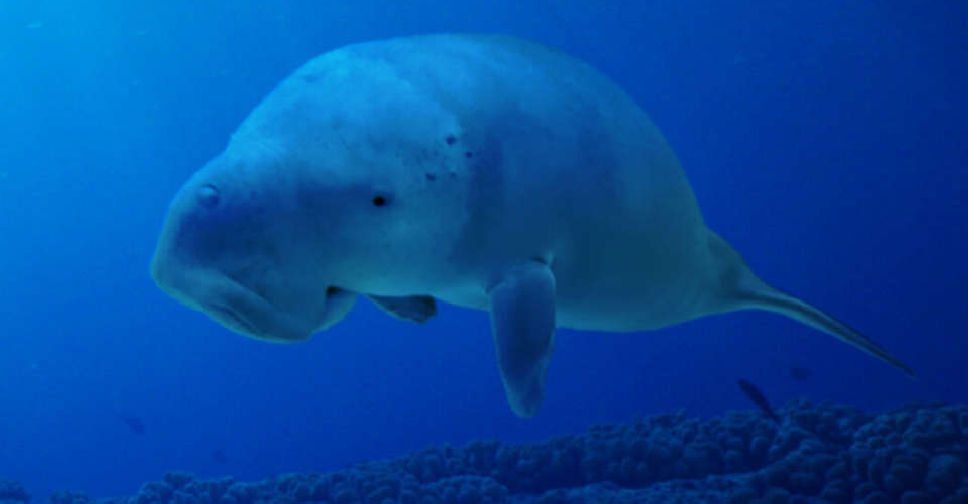 A dugong calf, which was found lost at sea in 2019, has been transferred to a new home in Abu Dhabi after its successful rehabilitation.
The male dugong, named Malquot has been sent to Yas SeaWorld Research & Rescue Centre to continue monitoring his health and will be supported by a team of animal care specialists to eventually be moved into a larger habitat.
The Environment Agency – Abu Dhabi's (EAD) marine species team, supported by experts from the Conservation of Migratory Species of Wild Animals (CMS) Regional Office and Worldwide Zoo Consultants (WZC), rehabilitated Malquot, who was found abandoned in Marawah Marine Biosphere Reserve in poor health.
He was transferred to a specialised facility and provided with 24-hour care until he was fully rehabilitated and healthy.
Malquot was transported to Yas Island in a special temperature-controlled Marine Wildlife Vehicle designed for moving any large or small marine animal in need of assistance.
The vehicle allowed for veterinarians and animal care specialists to ride alongside Malquot the entire journey to monitor his vital statistics and mist his body with water.
"As there have been very few successful dugong rehabilitations around the world, Malquot will give both resident and visiting scientists the opportunity to study how he interacts with his environment and how he develops as he grows and reaches maturity," said Ahmed Al Hashmi, Executive Director of the Terrestrial and Marine Biodiversity Sector at EAD.
Abu Dhabi is home to the second-largest gathering of dugongs in the world, after Australia.
There are approximately 3,000 dugongs in the territorial waters of Abu Dhabi, mostly found near Bu Tinah Island, which forms part of the Marawah Biosphere Reserve and Al Yasat Marine Protected Area.
The Environment Agency – Abu Dhabi and Yas SeaWorld Research & Rescue are entrusted to help any marine animal in need or at risk.
Members of the public are encouraged to call the EAD via the Abu Dhabi Government Call Center 800 555 to report any animals who may be injured or in danger.
.@EADTweets has transferred a male dugong named Malquot to facilities at Yas SeaWorld Research and Rescue Centre Yas Island, Abu Dhabi to continue monitoring his health, supported by a dedicated team of animal care specialists. pic.twitter.com/1GVxH4HAlD

— مكتب أبوظبي الإعلامي (@ADMediaOffice) September 26, 2023