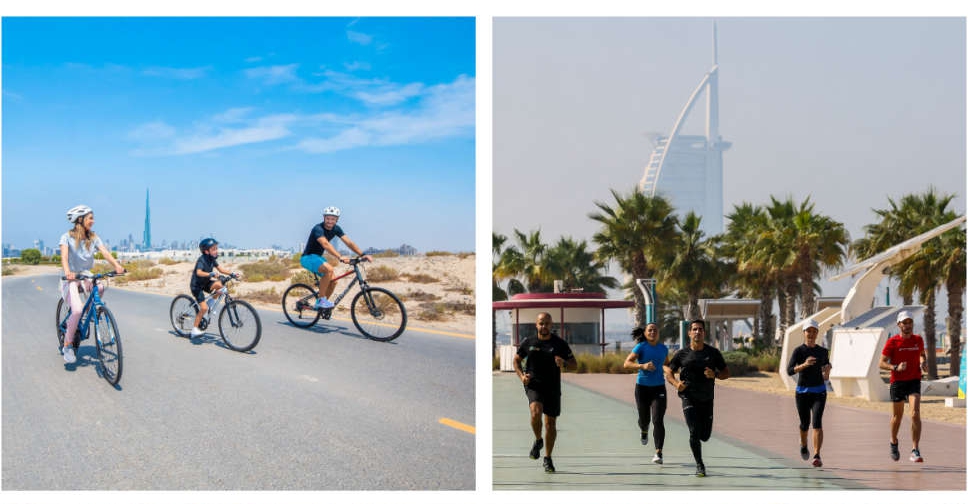 Supplied
Dubai Fitness Challenge is set to return this month to energise the whole city with 30 days of free fitness events, activities, and classes.
Running from October 29 to November 27, the initiative launched by His Highness Sheikh Hamdan bin Mohammed bin Rashid Al Maktoum, Crown Prince of Dubai and Chairman of The Executive Council of Dubai seeks to encourage everyone to embrace a more active lifestyle, try new fitness activities and enjoy the outdoors.
It also supports Dubai's vision to become the world's best city to live in, work and visit.
This year's action-packed calendar will see a more diverse and inclusive range of fitness activities and events than ever before - with a focus on getting outside as participants complete their 30 minutes of daily activity across the 30 days.
Everyone of all ages and abilities will be able to enjoy the three, free Fitness Villages at Kite Beach, Expo 2020 Dubai and Mushrif Park; fourteen Fitness Hubs in business and residential communities across the city; major sporting events and over 5,000 free live and virtual fitness classes.
The signature Dubai Ride (November 5) and Dubai Run (November 26) will return to Sheikh Zayed Road with families taking part alongside recreational and professional runners and cyclists for these two coveted events.
.@DXBFitChallenge is set to return this month to energise the whole city with 30 days of free fitness events, activities, and classes.https://t.co/YpucBmxqmt pic.twitter.com/tC3kHQhUU2

— Dubai Media Office (@DXBMediaOffice) October 6, 2021
The Fitness Village at Kite Beach will be home to action-packed beach workouts with 15 dedicated Sports and Fitness zones offering a variety of activities and classes for all levels and interests including HIIT training, yoga, spinning and water sports.
The main stage will feature live sessions from the region's top fitness instructors, while families will be entertained at the Fun Spot kids zone.
Padel Tennis will also be a new addition for this year, with a pop-up beachside court set up for anyone who would like to try out this increasingly popular sport.
On the other side of the city, the Fitness Village at Expo 2020 Dubai will be a wonderland for sports enthusiasts packed with running events, a Global Fitness Stage, football pitch, cricket nets, a gym and a multi-sports area.
Expo 2020 will also be collaborating with Dubai Sports Council (DSC) and Dubai Fitness Challenge (DFC) on numerous events, including the Expo 2020 Dubai Run – a high-profile race, to be held on Friday, November 19.
The third Fitness Village at Mushrif Park will have six zones with family-friendly activities, special workout spaces for women, as well as aqua zumba and aerobics, and a dedicated kids zone with obstacle courses and skill challenges.
The 2021 edition will also see the addition of the Dubai Padel Cup, which includes three days of exhibition matches at an iconic location in Dubai featuring some of the world's top-ranked professionals, as well as a dedicated championship for amateur players in various categories of ability.
With less than a month to go, everyone can now register online for the Challenge.
All activities will comply with COVID-19 regulations and social distancing mandates. Participants are required to follow precautionary guidelines, including wearing masks in public spaces.
"تحدي #دبي للياقة" يعلن فتح باب التسجيل في دورته الخامسة المقامة خلال الفترة من 29 أكتوبر وحتى 27 نوفمبر 2021، متضمنةً مجموعة متنوعة من الفعاليات وحصص اللياقة، والأنشطة الرياضية المجانية التي تقام في عدة مواقع في المدينة.https://t.co/VFG5Tf2IWF pic.twitter.com/zRSawYZIEl

— Dubai Media Office (@DXBMediaOffice) October 6, 2021